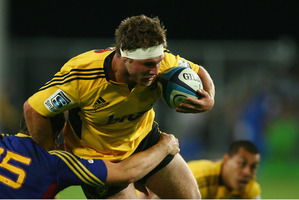 Ash Dixon must hold some sort of unofficial Super Rugby record.
Surely there has never been a third-string hooker who has been as gainfully employed as the Hawke's Bay rake.
Dixon arrived in Hurricanes country at the start of the season on a wider training group contract but will finish the 2013 Super Rugby campaign as the franchise's starting hooker in the final game of the year against the Crusaders in Christchurch tomorrow night.
Injuries to Dane Coles (fractured eye socket and calf tear) and Motu Matu'u (broken arm) have opened the door for Dixon to spend more time on the field than he ever imagined and he has gobbled up every opportunity.
"I was hoping to get as much game time as I could but it's been a pretty fairytale start for me,'' Dixon said.
"Two of the top hookers in the country going down and then getting a nudge, I've just never really looked back. I'm just trying to play as well as I can for the franchise and I'm loving every minute of it.''
The 24-year-old has bounced around the place during his short career in the professional game. After starting at provincial level with Hawke's Bay in 2008, he moved to Auckland in 2010 and was part of the Blues squad in 2011.
A return to Hawke's Bay last year saw him produce enough eye-catching displays to be contracted as the Hurricanes' insurance policy in the hooking department and he has proved to be worth every cent this season.
Dixon will make his sixth start of the year in tomorrow's game and he has also clocked up three appearances off the bench, in comparison to Coles (six games, five starts) and Matu'u (eight games, five starts).
Last year, David Hall was the third-string hooker for the Hurricanes and didn't once see a match-day squad as Coles never missed a game and Matu'u proved equally as durable.
There's a fairly sound argument that Dixon, a former national age-group representative at under-19 and under-20 level, has been the Hurricanes' most improved player this year.
Hurricanes coach Mark Hammett, a former hooker, said Dixon had progressed well.
"He's been one of the standout players ... he's a good lineout forward, a good ball-carrier and a guy who's developed his scrummaging to a point where I think he's pretty strong,'' Hammett said.
"He brings a bit of the old fashioned `follow me' type of character. So he's been great for the Hurricanes and he's had a great year and he deserves this last hit out.''
As for whether he will be back in the capital next year, Dixon said a contract was in front of him but he was yet to sign it.
"There's something on the table, I've just got to work through it. It just depends what I want to do and what my family wants to do. So the offer's there, I've just got to sort something out.''
Meanwhile, Hurricanes lock James Broadhurst has re-signed with the franchise for another two years. The former New Zealand age-group representative spent the early stages of this year on the bench but earned a starting position in round 16 against the Brumbies and has been a first-choice in the second-row since.
The 25-year-old has been a member of the Hurricanes since 2010 and plays his provincial rugby for Taranaki.
- APNZ