Host Alexandra Park tenant sure to vote for unification but other clubs' feelings unknown.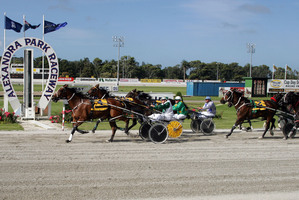 Two of Cambridge's best pacers make rare mid-winter appearances on their home track tonight but for vastly different reasons.
The Sean McCaffrey-trained pair of Racer and Norvic Nightowl are not the usual battlers associated with a mid-winter Thursday meeting yet they headline a strong representation for their trainer.
Racer contests a remarkably strong non-tote heat of the Australasian Breeders Crown, taking on group one winners Sky Major and Maxim.
The winner gets direct entry into the ABC semi-final on August 10 and McCaffrey says if Racer can prevail tonight the Australian campaign is on.
"It is worth a crack and if he can beat these horses then he would make a compelling case for going over to Aussie," said McCaffrey.
"But we have drawn the outside of three so it makes it hard, especially against those two."
While Racer, who was a one-time second favourite to win the Jewels, could earn another shot at the big time with victory tonight, Norvic Nightowl will be signing off for the season regardless of his result.
Good enough to finish fourth behind Border Control in New Zealand's fastest-ever mile at the Jewels, he is starting tonight only because any win would be penalty-free.
"It makes sense because of that and it is right on our back doorstep," says McCaffrey.
"We have given him plenty of standing-start practice and he handled it all right at Alexandra Park last week but had no luck mid-race.
"But he will obviously he hard to beat."
McCaffrey also expects prominent runs from debutante Earthbound (R2) and Oto Invasion (R3).
"Oto Invasion goes a lot better left-handed but his last three runs have been at Alexandra Park so I think he will like being back on his home track."
But it is a horse not even from his own stable that has McCaffrey just as excited as his own super-strong team tonight.
He drives Bandana in race seven and the 2-year-old will be most punter's Pick6 anchor after a stunning Alexandra Park win on debut.
"He does things easily that other horses would find hard," said McCaffrey.
"He is a very good horse and if he races up to his best I think he would win again."