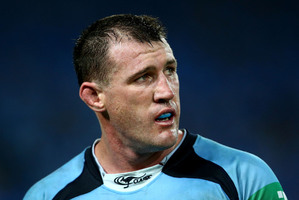 New South Wales skipper Paul Gallen has leapt to the defence of Parramatta prop Mitchell Allgood after his spat with Manly's Steve Matai and says the new NRL striking rules will see minor incidents blown out of all proportion.
Allgood was sent to the sin bin for landing a punch on Matai after the combative Manly centre charged towards him following a swinging arm by the prop on Jamie Buhrer.
He was subsequently slugged with a grade-three striking charge by the NRL match review committee and faces a two-week stint on the sidelines with an early guilty plea.
Gallen said Allgood deserved to be sent from the field, but felt incidents are being highlighted more than ever since the rule change came in three weeks ago.
"He should have been sin-binned under the new rules, but I have some sympathy for Mitch Allgood," Gallen said. "While not agreeing with what he did of course, when Steve Matai is running towards you looking like he is going to hurt you I can see why it happened.
But we are in danger of these things being blown all out of proportion."
Blues back-rower Greg Bird is no fan of the new ruling and said it was wrong for the NRL to take the control out of the hands of the on-field referees. "Referees already have the power to send blokes to the bin if they think it's worthy and I don't see why that power has been taken away from them by people not on the field."
- AAP