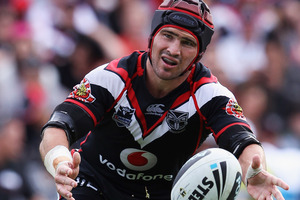 Justis Kamu looks at the Warriors' option to re-sign Nathan Friend as well as other key talking points from the latest round of NRL action.
1. Re-signing Friend a must for next season
The NZ Warriors have an option to re-sign Nathan Friend for one more year and it's a choice that the club should approve for 2014.
A deal between the parties looked to be a no-go with the Warriors telling the former Titans hooker he was unwanted for next season before a change of heart by the club suggested that they may still look to extend his Auckland stay beyond this year.
The club have re-signed hooker Pita Godinet and also have Siliva Havili on their books next season.
If you have watched both players at work their upsides are obvious - quick out of the ruck area, silky ball skills, and regularly in support of the ball carrier.
Whilst their youthful skills give them a leg up on Friend in these areas, the incumbent's defensive work (team-high of 270 in the 5-0 winning streak), experience and battle hardened approach are a few aspects of the game that these young cats could definitely learn from him.
The on-field wisdom from a man whose career has spanned 11 seasons is knowledge which the Warriors clearly lack and is needed in and around the current playing squad.
Also in terms of his off-field professionalism, keeping Friend makes sense.
He's an old-school gentleman, a strong family man, who keeps clear of the headlines for the wrong reasons and is well liked by fans and sponsors alike.
Friend is a ready-made mentor for the team that can model to young players the do's and dont's of an NRL player.
That is one of the big problems for most teams in the competition including the Warriors - there are not enough veterans currently playing to guide young players to handle all the dimensions of a modern-day footballer.
The Canberra Raiders could've done with such players at their club to help tone down the off-field tendencies of Josh Dugan and Blake Ferguson.
With all due respect to Simon Mannering and Manu Vatuvei but at the age of 27 they are both still young and don't possess enough life skills to be effective mentors to young players.
Friend (33), and even Todd Lowrie (30), are the elder statesmen type figures that every club needs.
Much like when Reuben Wiki and Steve Price both moved to the Warriors at 30.
Friend's on-field impact may not equate to what Price or Wiki did but having that 'older guy' in the locker room did wonders for Warriors and brought about a sustained influential shift in personnel behaviour.
That is the same lasting impact that the chilly-bin lugging hooker can have on the rookies of the 2014 side.
2. Eels woes too much for Allgood
It appears that the frustration of being the worst team in the NRL this season has become too much for Mitchell Allgood after his foolish brain snap in Monday night's 50-10 hiding from the Manly Sea Eagles
Firstly, the Eels prop lashed out with a swinging arm in front of the referee which caught Jamie Buhrer in the gut.
Although that incident didn't make contact to the head, the reckless nature of the act was enough for him to have been put on report.
The incident that ensued saw Allgood commit a flagrant foul as he lashed out twice at Matai who had approached him after the earlier indiscretion.
The Sea Eagles centre was surprised if anything by his opposite's reaction and was left worse for wear with a bloody mouth.
With Allgood likely to accept an early guilty plea for the grade-three striking charge he may only miss two NRL matches.
This will ensure that the offender and his victim will likely come face to face again in the round 21 clash between the two teams at Parramatta Stadium.
That is a showdown that will certainly add more sting to the contest come August 3.
3. Hurrell choosing Tonga - the right choice
Konrad Hurrell's decision to play for Tonga at the upcoming Rugby League World Cup will provide a huge boost to Mate Ma'a Tonga.
The NZ Warriors was born in Tonga before moving to New Zealand in 2009 to attend Auckland Grammar School.
While he still harbours a desire to play for the Kiwis later down the track, it's a win for the 'minnows' that they will have one of their own suit up for them.
Hurrell will add plenty of firepower to a strong Tongan side who demolished Toa Samoa 36-4 at Centrebet Stadium in Penrith this year in April.
The Tongans are placed in the same pool as Scotland and Italy at the RWLC and look strongest of the three teams considering the NRL and Super League players in contention for a spot in their squad.
If they can top their pool, Tonga will meet New Zealand in the quarterfinals.
One only has to be reminded of the last time the two sides met in a RWLC, back in 1995, at the prospect of facing a strong Pacific Island nation at the tournament.
Playing in Warrington, the Tongans nearly pulled off the biggest upset in the history of the game after leading 24-12 with ten minutes remaining.
Thankfully for the Kiwis they scored two late tries and were saved by the boot of Matthew Ridge who converted both four-pointers and slotted over a drop goal at the death to pip the Tongans 25-24 in a thrilling encounter.
4. Kiwi Ferns on course for four-peat
The Kiwi Ferns team will look to make a clean sweep of their pool matches at the Womens Rugby League World Cup in England when they face Australia on Friday (NZ time).
Their final pool match against the Jillaroos (which means a young woman in training on a cattle or sheep station) is effectively a dead-rubber match as both teams will contest the womens final on Monday morning (NZ time).
The Kiwi Ferns dispatched the France 88-0 (http://www.youtube.com/watch?v=2RHd20v90Y0) in their first group match with captain Honey Hireme scoring five tries and followed that up with a second victory over a much sterner England side 34-16 http://www.youtube.com/watch?v=yg-5TXHqATA.
The New Zealanders are heavy favourites to win their fourth straight world title but the Aussies have shown big improvement at this tournament with a 72-0 shellacking of France and tough 14-6 win against England.
To keep up-to-date with the Kiwi Ferns both on and off the pitch follow them on facebook. https://www.facebook.com/pages/Kiwi-Ferns/249750751704857.
All the best to the ladies for Monday's final, bring home the cup!
5. Sideline chat
From CSR
"Marshall is a once in a generation type of footballer alongside Johnathan Thurston, Darren Lockyer and Sonny Bill Williams."
How can Benji be once in a generation player when you name 3 others from the same generation??
Thanks CSR for pointing that out but as Greg has commented: A once in a generation TYPE of footballer... which means for his style of play, he is once in a generation. Much like the others he listed. There's no other Marshall type player around (as good as him) just like there's no back rower like SBW. Although it could be said Thurston and Lockyer are similar, though Lockyer played half his career at FB.
From Leon
Marshall would be ok in rugby. It's not like he'd be going straight into the ABs, but going to the Blues would be a smart move, as he would be coached the defensive game by Ted and helped on the field by Weepu, at least until he finds his feet. Go for it, I reckon.
Benji in union is a mouth watering prospect for the rugby world, there won't be a first-five in the world like him. Quade Cooper is a poor man's Carlos Spencer and if he can make the international grade than Benji who has better all around skills will no doubt be a star at test level. As you have pointed out, he does need to be coached by union's best before making the switch but he will find his feet in the game. There have been a number of mediocre league players from the NRL who have jumped to union so Marshall should take heart from that - but for league's sake he should stay put.
From Janice Wallace
Everyone who thinks Benji hasnt got lots good highclass footie in front of him need only look at Thurston who was playing awfull till couple weeks ago.Form comes and goes but "class" which the likes of benji and thurston posses never leaves.
Agreed, Benji is all class and is coming back to better form in recent weeks. With nine rounds to go, there is still time for the West Tigers to make a late dash for the finals so they are not out of it just yet.
6. Team of the week - round
1. Fullback - Brett Seymour (Sea Eagles)
2. Wing - James Roberts (Panthers)
3. Centre - Bryson Goodwin (Rabbitohs)
4. Centre - Maurice Blair (Storm)
5. Wing - Jorge Taufua (Sea Eagles)
6. Five-eighth - Todd Carney (Sharks)
7. Halfback - Daly Cherry-Evans (Roosters)
8. Prop - Nigel Plum (Panthers)
9. Hooker - Cameron Smith (Storm)
10. Prop - Andrew Fifita (Sharks)
11. Secondrow - Josh Papali'i (Raiders)
12. Secondrow - Ryan Hoffman (Storm)
13. Lock - Shaun Fensom (Raiders)