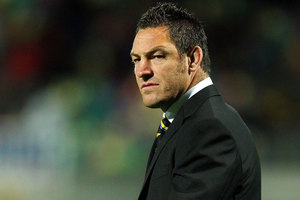 Last year's surprising set of results may have been the worst thing to happen to the Hurricanes.
With an inexperienced squad, Mark Hammett's upstarts came within two competition points of a wildcard spot in the playoffs last season and registered impressive wins over the Crusaders and Chiefs during the campaign.
The wheels haven't completely fallen off this year, but if they don't beat the Crusaders in Christchurch on Friday night they could register an 11th-place finish in 2013 - their equal-worst finish in Super Rugby.
They also face the real possibility that first-five Beauden Barrett could head north to join the Blues next season.
This year began promisingly for the Hurricanes as they rode the wave of confidence from last season's efforts but skipper Conrad Smith has revealed the side may have been a victim of their own success as they started to believe their own hype.
"I think just looking at this year, I think there was a little bit - and this is only a small thing - but we maybe felt we were better than what we were on the back of last year and that plays its part,'' Smith said.
"I think we might have forgotten some of the hard work that went in to those results last year and when that starts to happen it's dangerous and we talked about that at the start but I think it's an individual thing. I think a lot of our young guys learned that this year and I think they'll be better for it.''
It was a refreshingly honest assessment from Smith and provided an interesting insight in to a team who have dropped six of their past seven fixtures as their campaign tailed off badly.
Whether the coaching staff will admit they were wrong or not, the turning point this year came when they switched Barrett to fullback for a game against the Blues in round nine when they were on a four-game winning streak.
Sir John Kirwan's men took advantage of the needless backline reshuffle with installed Tusi Pisi at pivot and pounced for a 28-6 win and Hammett's side were never the same.
That change is believed to be one of the main factors in Barrett's thinking that he may need a change of scene. While Barrett is a competent fullback, he is the country's third-best five-eighth and there isn't a lot of logic in changing a player from such a key position when you are on a roll.
When Hammett was asked today whether he felt Barrett would return next year, he offered: ``I'm confident he's really passionate about the Hurricanes and what I really like about Beauden as opposed to potentially dealing with some other players is that he's all about, `how do I get better?','' Hammett said.
"I like the fact he gives himself time to look back, get a view as to where the future of the team is and the wider direction of the franchise.
"I think it's fantastic. We don't get too many players who think as deeply as that.''
Barrett has said he won't make a decision on his future until the end of the Super Rugby season, while All Blacks wing Julian Savea is also off-contract.
A strong majority of the Hurricanes squad has been signed for next year and Smith and Hammett both spoke positively today that they can take a step in the right direction next season as they look to make the playoffs for the first time since 2009.
- APNZ