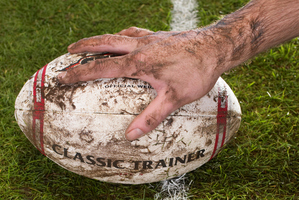 A school principal says strategies have been put in place to ensure the college avoids any more on-field trouble.
Six high school rugby players have been suspended from the college code after a Wellington game erupted in violence.
The players, from Newlands College and Bishop Viard College, were suspended after a Wellington Secondary Schools Rugby Union Judicial Committee hearing yesterday (Tue).
They were singled out following a 1st XV match between the two schools on June 29.
It was earlier reported that it was understood two separate brawls, which involved most of the players, occurred during the match's second half.
Spectators were also verbally abused and both teams, which were competing in the Premier 2 college division competition, had been banned from playing last weekend.
The match was also declared a nullity.
The Wellington Secondary Schools Rugby Union said in a statement today that six players were predominantly charged with striking other players.
"Four attended their hearing, one accepted his charge and wrote a letter of apology and one pleaded guilty to the charge."
Two players have been prohibited from playing all rugby until July 14 and another two received suspensions until August 11.
One player has been suspended until August 18 and the other until August 25.
"This has been a timely reminder to both schools and the wider Rugby community that such behaviour is inexcusable and there are significant consequences," the union said
Both teams, excluding the suspended players, would return to the Wellington Secondary Schools Premier 2 competition this week with Bishop Viard hosting Mana College and Newlands hosting Aotea College.
Newlands principal Grant Jones, who attended yesterday's hearing, confirmed two students from the school had been involved.
They were made aware of the hearing outcome today, he said.
The school had not taken any disciplinary action in regards to the incident as the rugby union's decision was still open to an appeal, Mr Jones said.
"I had a discussion with the team. We've got some strategies in place. The school hadn't had any red or yellow cards prior to this, and certainly I don't expect any more, but we've looked at ways in which we can be proactive so that this doesn't happen again," he said.
Bishop Viard principal Teresa Cargo said the school was working with Newlands College, players and their families in regards to violence on the field.
"They accept that what they did was wrong, and they take the consequences, and now we move forward.''
Many parents were also at the match, Mrs Cargo said.
"It's been disappointing. We always have the traditional rivalry [with Newlands] and we certainly don't want a repeat.''
- APNZ