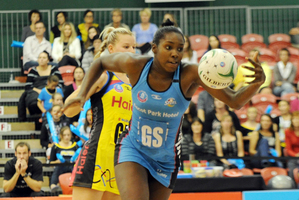 Shooter Jhaniele Fowler has been rewarded for her outstanding debut season with the Southern Steel by being named the ANZ Championship's best new talent for the 2013 season.
The 23-year old Jamaican international grabbed headlines this season by breaking the league's shooting records, including most goals in a season and most goals in a single match, in her first year of the ANZ Championship.
"We've never seen a player like Jhaniele who has had such an impact on the competition in their first season of ANZ Championship,'' league general manager Andy Crook said.
Fowler's 65 goals against the Tactix, in just her second game, broke league's record for most goals in a single game _ a figure she achieved twice this season - on the way to eclipsing the competition's record for most goals in a season.
The shooter finished the season with 666 goals, at an average of 52.1 goals per game and at 94 per cent accuracy, to surpass the previous record of 574 goals set by fellow Jamaican Carla Borrego in 2010.
Fowler, who has re-signed with the Steel for another two seasons, follows previous winners Julianna Naoupu (2012), Kayla Cullen (2011) and Sharni Layton (2010).
- APNZ