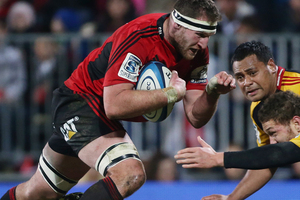 A look back on all the Fantasy studs and duds from the weekend's Super 15 action.
Crusaders 43 Chiefs 15
The star: Kieran Read (38 points) - Two tries and double-digit tackles handed Read his biggest fantasy haul of the season. After two weeks of limited game time, he should be back to playing 80 minutes as the Crusaders make a run at the title.
The dud: Craig Clarke (5 points) - He's been a dependable fantasy second rower over the past six rounds but he, along with a host of other Chiefs, were rendered irrelevant this week.
Value pick: Tyler Bleyendaal (17 points) - Bleyendaal turned up on the fantasy scoresheets this week despite not handling the kicking duties. Don't count on him being a consistent performer for you but he was a nice surprise this week.
Hurricanes 44 Highlanders 49
The star: Elliot Dixon (37 points) - Dixon was everywhere during the Highlanders' upset win. He made 22 tackles and scored a try to destroy his previous fantasy-best round of 17 points.
The dud: TJ Perenara (-3 points) - That's two weeks in a row he's appeared as a dud in this column.
Last week it was five knock-ons that let him down, this week he added one more to that tally but mainly just seemed to disappear.
Value pick: Tony Woodcock (21 points) - Another Highlander who got around the paddock on defence with 17 tackles. Both of these sides are out of the running for the finals so beware picking them up for one week next week.
Cheetahs 34 Blues 13
The star: Riaan Smit (26 points) - If Smit is named as the Cheetahs starting five eighth over the next few rounds he could be a great sneaky play as a back in our competition. He made seven successful scoring kicks for a Cheetahs side that love to take penalty shots at goal.
The dud: Steven Luatua (2 points) - Along with his Blues teammates, Luatua went missing in this match.
Value pick: Philip van der Walt/Peter Labuschagne - Now that the Cheetahs are confirmed for the playoffs, these two should be in your fantasy back row. For just over $4 million each, they are absolute bargains.
Kings 12 Stormers 24
The star: Deon Fourie (31 points) - That's four tries in three games for the Stormers front rower. It's a pity his season's over as he was just rounding into form.
The dud: Joe Pietersen (8 points) - This was just the third time out of 15 rounds this season that Pietersen has failed to crack double figures in fantasy points. If, like me, you picked him up hoping he'd turn up against the Kings, then it was tough week.
Value pick: Cornell Du Preez (16 points) - If Du Preez was on a better team he'd be a true fantasy force. He's been a top 15 back rower all season so well done to those who've had the insight to keep him and his $4,180,000 in their team.
Bulls 20 Sharks 19
The star: Morne Steyn (24 points) - He's been the mainstay of many fantasy teams this season and the good times should keep rolling as the Bulls will be headed for the playoffs.
The dud: Werner Kruger (4 points) - Front rowers don't score many points in this fantasy game but Kruger's been better than this for most of the season.
Value pick: Marcell Coetzee (19 points) - He ran for over 130m in this one and has been a great late-season pick up for savvy owners.
Round 19:
On form players
Worst performers
Full player list, including fantasy points