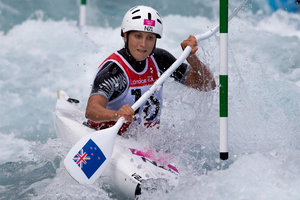 Top New Zealand whitewater kayakers Luuka Jones and Mike Dawson have kick-started their Olympic campaigns with a series of semifinal finishes in the opening rounds of the world cup circuit in Europe as they build into their seasons.
Dawson's rebuild has been more of a physical one, after breaking his back in an extreme race at the end of last year and spending four months out of his boat over summer.

The 26-year-old finished 29th in the Cardiff world cup, 24th in Augsburg (Germany) and 27th in the just-completed round in Spain, expressing surprise at his consistency.
"I made quite a few mistakes and touches but the times were pretty close to being on the money,'' Dawson said. "I managed to pick up four seconds of penalties in each of the three semifinals which took me out of finals contention but I was more pleased with my run times. In Germany, my raw time would've been good enough for third place and, without touches, I would've made the top 15 at both the others, at a course that historically I've been pretty slow on.''
Both paddlers have been able to hire coaches this season thanks to funding from High Performance Sport New Zealand, with Dawson linking with experienced Slovenian paddler Dejan Kralj. He will spend the next five weeks in Slovenia before the next two world cups and September's world championships in Prague.
Jones missed the final world cup in Spain, meanwhile, to try to embed changes she's made with her Great British coach Campbell Walsh after also comfortably making the semifinals in Germany. She finished 35th in Cardiff and 28th in Augsburg.
"I've been doing a lot of great training with Campbell and learning a lot of new techniques, which I am not consistent in yet,'' said Jones, who has represented New Zealand at the last two Olympics. "This showed in the races, where I was making quite big technical errors which cost a lot of time. I would've liked to have finished higher up the field but I'm confident the progress I'm making in training will set me up for the world champs, which is my primary focus this year.''
Jones will be based at the world championships course in Prague, which has recently needed a hasty rebuild of its own after floodwaters ravaged the city.
The 24-year-old will compete at the Czech nationals, with the next two world cups in Tacen and Bratislava in August.
- APNZ