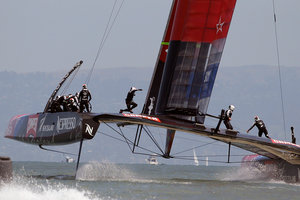 Louis Vuitton Cup - race 2
Team New Zealand v Artemis*
(Artemis have confirmed they will not be racing as they await the launch of their second boat)
Wind: 14-15 knots at start time, building to 20 knots
Tide: flood tide offset wind +1.9 knots (effective wind limit 21.9 knots)
Team NZ crew: Skipper: Dean Barker, Tactician: Ray Davies, Wing trimmer: Glenn Ashby, Trimmer: James Dagg, Strategist: Adam Beashel, Bowman/Pit: Jeremy Lomas, Grinders: Chris Ward, Rob Waddell, Derek Saward, Grant Dalton, Chris Ward.
Team New Zealand are set to collect another easy point in the Louis Vuitton Cup, as for the second time this week they find themselves without opposition.
But unlike Monday's boycott by Luna Rossa as they await the outcome of the jury hearing, today's no-show has been expected for some time as Artemis battle to get back on the water after May's fatal capsize, which also destroyed their first boat.
Over the weekend Artemis chief executive Paul Cayard said his team were still about two weeks off being ready for sea trials.
The Emirates Team New Zealand crew looked slick on Monday when it scored its first point in an uncontested race. The reigning Louis Vuitton Cup champions from 2007 completed the 16-nautical-mile racecourse in 46 minutes, recording a top speed of 42.8 knots (over 80km/hr).
Dean Barker has once again elected to sail the full seven-leg course, rather than the shorter alternative offered by regatta director Iain Murray.
Barker said while they are once again without an opponent, they have to treat today like they would any other race day.
Prior to the race getting underway, Cup defenders Oracle were flexing their muscle on San Francisco Bay, taking both their boats out for a spin. With Olympic great Ben Ainslie, who is known for his aggressive sailing, at the helm of boat one to push Oracle skipper Jimmy Spithill in boat two, Team New Zealand will be very nervous about their solo sailing programme through much of the early rounds of the Louis Vuitton Cup.