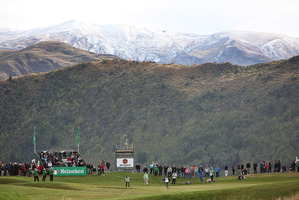 The New Zealand Open is returning to Queenstown and will be played there for the foreseeable future.
A return to the southern resort town is the result of a deal between New Zealand Golf, the PGA of New Zealand and Michael Hill Tournaments. At least $850,000 in prize money will be at stake and The Hills and Millbrook courses will be used.
Under the agreement NZ Golf has licensed MHTL to organise and take responsibility for the Open for an initial period of three years.
Significantly, an agreement has also been signed between MHTL and the Japanese Golf Tour Organisation. As a result, next year's tournament, which runs from February 27 to March 2, will host 15 leading professionals from the Japan Golf Tour.
It means a return to The Hills after two years at the Christchurch Clearwater course.
The event there in 2011, won by Australian Brad Kennedy, was marketed as the city's first major sporting event after the devastating earthquake in February of that year.
Tournament chairman John Hart said next year's event would be a landmark occasion. He expected up to 20,000 spectators.
"We want to create an iconic event that people want to come to, that players want to come and play that spectators want to watch," he said. "Bringing the two events together, the two-course format, expanding the pro-am, that gives us the ingredients.
"Also, the recognition by the Japan tour that they are going to be a partner with us in this tournament is huge for the game of golf here in terms of internationalising it."
The Government is supporting the event to the tune of $900,000 through its Major Events Development Fund arm.
NZ Open
The Hills and Millbrook, February 27-March 2
A minimum professional field of 132 players will play the first two rounds alternately at The Hills and Millbrook before the second-round cut of 60 + ties.
NZ Pro-Am Championship
The NZ Pro-Am Championship will run alongside the main event.
Venues and winners of the past 10 NZ Open tournaments:
2012: Clearwater, Jake Higginbottom (a) (Australia)
2011: Clearwater, Brad Kennedy (Australia)
2010: The Hills, Bobby Gates (US)
2009: The Hills, Alex Prugh (US)
2008: No tournament
2007: The Hills, Richard Finch (England)
2006: Gulf Harbour, Nathan Green (Australia)
2005: Gulf Harbour, Niclas Fasth (Sweden)
2004: The Grange, Terry Price (Australia)
2003: Royal Auckland (Middlemore), Mahal Pearce (NZ)
2002: Paraparaumu, Craig Parry (Australia).
- APNZ