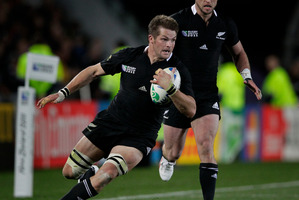 On the eve of his playing return, All Black captain Richie McCaw has endorsed a season restructure proposal that should reduce the need for future generations of players to be granted sabbaticals.
McCaw and other leading international players have been integral drivers in pushing for global change that could see the June test window shifted to July, the four-week gap in Super Rugby axed and all players granted an extended pre-season of at least 12 weeks.
For the Northern Hemisphere, the new structure, which is aiming to be in place by 2016, will require them to start a month later - in late September as opposed to late August.
The haphazard, illogical current set up where players in both hemispheres are asked to play for more than 10 months a year while only being granted as little as six weeks to condition and prepare, has pushed many individuals beyond the brink of their physical and mental capabilities.
McCaw decided to take a six-month sabbatical from December last year as after 12 years of top flight rugby, he felt he wouldn't be able to push on to the next World Cup without some kind of escape from the constant carnage and mental stress.
Other senior All Blacks will follow suit this year - with Conrad Smith having confirmed he will rest from October for four months and Dan Carter likely to soon confirm that he won't play Super Rugby next year as he feels needs total rest from the game.
These players and many more believe that if the season was restructured to give them a minimum of 12 weeks pre-season preparation, they could enhance their longevity and quality of performance would be more consistent.
"If the game's leaders give this idea, or a variation of it, serious consideration it could be a game-changer for professional rugby," McCaw said. "It would be fantastic to address this long standing season structure debate once and for all, the players and the game would be so much better for it."
The issue of season restructure has constantly been on the agenda for most of the professional age but to date, a solution on how to make things better has not been found. The main reason for that has been that too many long standing commercial arrangements have been in place with staggered expiry dates.
But the International Rugby Players' Association is confident now that the bulk of the main broadcast and sponsorship deals in both hemispheres will uniformly expire in 2015 - opening the way for structural change in 2016.
IRPA boss Rob Nichol says that discussions are already advanced with the major European leagues about making the shift and that there is widespread player support.
"We see this initiative as beneficial for the global game," Ireland and British Lions first-five, Johnny Sexton said. "From a player perspective, we urge our leaders to get in a room together, take a positive attitude and see what can be done."
Under the new proposal Super Rugby would begin, as it does, in mid-to-late February and be played in one continuous block through to early July. What shape that competition takes in terms of the number of teams and split of conferences is yet to be determined.
There would be three tests after Super Rugby finished, followed by a short break before the Rugby Championship would commence - most likely in its current format. The Six Nations and November tests would stay as they are.