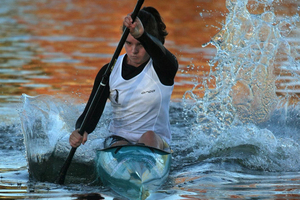 Buoyed by results on the World Cup circuit, New Zealand will send an unchanged squad to August's canoe world championships in Duisburg.
The youthful K4 quartet of Daryl and Jarrod Fitzgerald, Zac Quickenden and Jasper Bats did enough in Europe to suggest they'll benefit from the trip.
Women's K2 500m pair Rachel Dodwell and Teneale Hatton were hot and cold, but achieved some fine results, and Hatton revealed another string to her bow with strong performances in the non-Olympic marathon K1 5000m event, where a victory in Poland in the third and final regatta followed second and fourth placed finishes at Hungary and the Czech Republic.
Former world champion and Olympic silver medallist Ben Fouhy improved as the trip progressed; while world and Olympic champion Lisa Carrington won five of six finals over both her specialist 200m sprint and the 500m discipline to confirm herself as the pre-eminent women's paddler.
"We were definitely encouraged," Canoe Racing New Zealand high performance manager Grant Restall said.
"There were some moments when crews didn't go as well as they should, but others when they went better than they could have. A lot of them are pretty new crews and it takes a while to get people bedded down and get consistent results coming out."
In the case of the K4, the sights are set on the 2020 Olympics, but there is a desire to get them qualified for Rio in 2016 as well.
Indeed it's a good time to be an up-and-coming paddler.
New Zealand will contest the inaugural world under 18/23 championships in Welland, Canada at the start of next month.
Post-Olympic year can be a time for taking stock in most sports before setting out on the slog to the next Games. But the Canadian trip adds some substance to the year.
The age group world champs present an ideal opportunity to find out if the next layer of potential Olympians are tracking encouragingly alongside their peers around the world.
CRNZ are sending 17 athletes to Canada and Restall hopes, on the back of Carrington's Olympic gold medal in London last year, there are positive signs.
"We are pretty excited," Restall said.
"Previously there's been an under 23 European champs and we've been excluded. This gives a great chance to benchmark where our athletes are at that younger age group."
Restall singled out two paddlers, Hawke's Bay's Aimee Fisher and Lucy Johnston of Christchurch. Johnston impressed at the Youth Olympics in Australia earlier in the summer while Fisher "is tracking on a similar tangent to Lisa".
The pair, along with Quickenden and Jarrod Fitzgerald, all won medals at the Australian Youth Olympic Festival in Penrith in January.
The elite group will arrive in Duisberg from different directions. Carrington and Dodwell are spending time training on the Gold Coast, the K4 group stayed in Hungary ahead of the trip to Canada; Hatton was heading to a surf ski camp in Europe then training in Munich.
The under 18 group left for Racice in the Czech Republic a few days ago and will contest that country's nationals as a leadup; former double Olympic gold medallist Alan Thompson and Bianca Teague are overseeing that group. The under 23s have recent Olympic paddler Steve Ferguson and Andras Szabo doing the coaching.
Canoeing's Up and Comers
New Zealand team for inaugural combined world champs in Welland, Canada starting August 1:
Under 23 men: Jasper Batts (Gisborne), Daryl Fitzgerald (Gisborne), Jarrod Fitzgerald (Gisborne), Zac Quickenden (Christchurch).
Under 23 women: Kayla Imrie (Auckland), Lucy Johnston (Christchurch), Caitlin Ryan (Auckland)
Under 18 men: Max Brown (Bay of Plenty), Jarrod Fitzgerald, Taris Harker (Bay of Plenty), Kurtis Imrie (Wellington), Aiden Nossiter (Taranaki), Sam Roy (Bay of Plenty).
Under 18 women: Rebecca Cole (Taranaki), Danielle Currie (Christchurch), Aimee Fisher (Hawkes Bay), Kim Thompson (Gisborne).