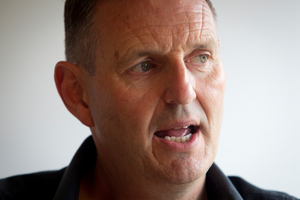 The New Zealand Rugby League will bid to host the 2017 World Cup final at Eden Park.
Australia and New Zealand will make a joint bid to host the 2017 instalment and, even though it's early days in the process with the formal bid document not released until September, will be firm favourites to host.
South Africa, the only other contender, are struggling to win official government support.
Formal bids are due before October's World Cup in Britain and France and a decision is likely to coincide with that tournament.
The New Zealand and Australia bid should find considerable support, with four of the 10 members of the Rugby League International Federation board charged with making the decision from the two nations. South Africa are not represented at present.
The transtasman neighbours have twice co-hosted the tournament - in 1968 and 1977 - and Eden Park hosted the 1988 final, which was the culmination of a home-and-away format contested over three years.
NZRL chief executive Phil Holden said they were interested in hosting New Zealand's pool and one semifinal but would also make a bid to host the final if it was commercially viable.
"If we are successful in winning the right to co-host the tournament and a genuine opportunity to bid for the final exists then we will definitely pursue it," Holden said.
"We demonstrated through the Rugby World Cup that New Zealand can host big events.
"The New Zealand Government is looking to support organisations like ourselves in bringing major events to the country.
"We would like to think that with those resources behind us we can put a compelling case together."
Where previously the NZRL has been happy to play little brother to its Australian counterparts, Holden said it would be looking to "create some competitive tension in the process". There might be an assumption Australia would host a final but it was important to find a venue that would deliver the greatest commercial benefit. The last World Cup banked A$5 million ($6.2 million) in profits.
Eden Park holds about 45,000 but can be increased to 60,000, as it was for the 2011 Rugby World Cup.
Suncorp Stadium, the venue for the 2008 final, holds 52,500 and Sydney's ANZ Stadium can house close to 84,000 spectators.
New Zealand and Australia traditionally co-host the Four Nations - formerly Tri Nations - sharing the load in 1999, 2006 and 2010. They are also due to co-host next year's instalment. Australia are also due to host the 2014 Anzac test.
- APNZ