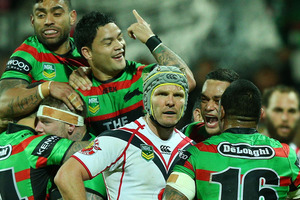 The New Zealand Warriors will change the way they travel to Perth in the future after delays meant they didn't arrive at their hotel until 2am two days before last night's loss to South Sydney.
Matt Elliott's men faded in the second half of the 30-13 defeat after looking good for their 13-6 halftime lead at NIB Stadium. The table-topping Rabbitohs improved after the break but the travel factor wouldn't have helped the Warriors.
"We had some problems with our travel,'' coach Elliott confirmed in the post-match press conference. "We got delayed, so we'll really have to examine how we do that next time. We came two days ago but we didn't get in until 2 o'clock in the morning, which is 6 o'clock in the morning our time, which is tough on players. We need to examine that if we have to come over here again.
"There's no issue with playing in Perth at all. The venue was the right size, it was good to see it full, there was a pretty good split of fans and I thought it was a pretty high-quality game of footy as well.''
The defeat marked the end of the Warriors' five-win streak and confirmed the quality among the Rabbitohs, although they enjoyed some good fortune as well, particularly for Andrew Everingham's try, the first of their five.
Elliott and captain Simon Mannering cut disappointed figures afterwards- the good start in which Shaun Johnson engineered a try for Mannering with a fine pass, and Konrad Hurrell's blockbusting try amounting to nothing.
"They're a little bit further down the track than us,'' Elliott said of the Rabbitohs. "It was a really good lesson that we've got some ground to cover. It was the subtlety which they had in their game that was the difference - their last plays were better than ours.
"We did a lot of good things. I think we made more line breaks than them, I think the line breaks were 4-2 our way and I think their last one came in the last play of the game, so there's some stuff for us to work on.''
Mannering said: "I guess we put them under a fair bit of pressure at the end of the second half. We knew after the break they would have us under the pump again like they did at the start of the game. Unfortunately we couldn't handle it towards the last 10 minutes which is a shame.''
Hurrell's try, in which he ran over the top of one would-be defender and through two others was a highlight, Elliott admitting:
"Give him one-on-one opportunities and he's pretty scary.''
The Warriors, who are 11th and two points outside of the top eight, have a bye this week.
- APNZ