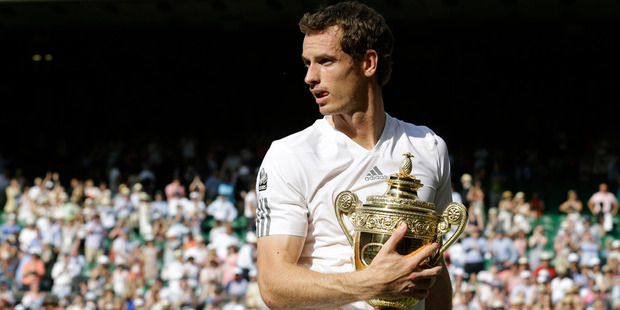 Andy Murray looks on the verge of a knighthood after becoming the first British man to win the Wimbledon title in 77 years this morning.
The Scot claimed his second Grand Slam title after beating world number one Novak Djokovic 6-4, 7-5, 6-4 at the All England Lawn Tennis Championships.
British newspaper The Daily Mail is reporting that Murray could become Sir Andy Murray by the end of the year.
Downing Street sources told the paper that the British Government would pass his name to the Honours Committee to be awarded a knighthood. Murray's achievement closely matches that of cyclist Bradley Wiggins who was knighted for winning the Tour de France last year - Britain's first victory in the event's 100-year history.
Earlier in the year, after coming off a golden summer in 2012 where he claimed an Olympic gold medal and the US Open, Murray said he was against the idea of being presented a knighthood.
Cyclist Sir Chris Hoy was also knighted while still competing in his sport.
The 26-year-old received the Order of the British Empire in the New Year honours list though some of his supporters thought his major victories warranted a higher honour.
"You need to do a lot, for a long time, to deserve an honour like that," Murray told AP.
"A lot of the sportsmen and women have been given that just because their sport isn't necessarily in the spotlight all the time, it's easy to forget what they've done for 10, 15 years. I mean, some of them have won 10 gold medals in world championships, four or five Olympic medals and have been doing it for years.
"I've only been doing it for a couple of years so I think I'll definitely need to win a few more matches and have more tournaments to have a chance of getting that."
Former tennis professional Andy Roddick may have the inside word.
"Pretty sure @andy_murray might have to change his twitter name to @sirandymurray ...... Well played and deserved," he tweeted.
Pretty sure @andy_murray might have to change his twitter name to @sirandymurray ...... Well played and deserved!

— andyroddick (@andyroddick) July 7, 2013
What's certain is Murray's next step. The United States beakons for Murray as he begins working on the defence of last year's US Open crown and target his third Grand Slam title. The US Open begins on August 26.
- nzherald.co.nz/AP