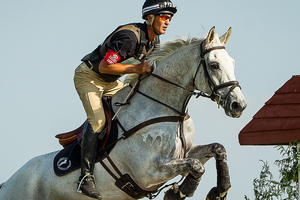 Andrew Nicholson and Avebury are once again the Barbury Castle International Horse Trials 3-star Section A champions after a vintage performance in the cross country in Wiltshire, England.
The combination had a comfortable 10 penalty point buffer over nearest rival Izzy Taylor of Great Britain aboard Kbis Starchaser.
It was a fitting win for Nicholson, as his home-bred Avebury is named after a local Roman settlement.
"It's a great place to win," said Nicholson. "Avebury is very experienced and easy to ride now. It felt like a top performance in every phase."
In a pressure-packed cross country phase, there were was just one combination to come home clear and inside time. Rising to that challenge was New Zealand's Craig Nicolai aboard his Just Ironic. Their efforts saw them finish in 16th place - well up from their 56th after the dressage.
Tim Price and Wesko had an expensive run out which saw them slide from third place to 21st, while Sir Mark Todd and his new ride Oloa was clear but with time faults which saw him move up to 11th.
In the 3-star Section B it was all Piggy French's way. The British rider and Tinkas Time were clear to finish less than two penalty points ahead of second-placed Clark Montgomery of USA on Loughan Glen.
Nicholson was again the best of the Kiwis, finishing in fifth place on Nereo, with Lucy Jackson and Willy Do seventh and Jonelle Richards and Faerie Dianimo 11th.
Again, clear rounds inside time were scarce.
Tim Price and his 19-year-old best mate Vortex were crowned Retraining of Racehorses Champion of Barbury for the second consecutive year.
Results -
CIC3* Section A (final): Andrew Nicholson (NZL) Avebury (owned by Mark and Rosemary Barlow and Nicholson) 35.2 1, Izzy Taylor (GBR) Kbis Starchaser 45.4 2, Lucy Wiegersma (GBR) Simon Porloe 46.6 3, Sir Mark Todd (NZL) Oloa (owned by Di Brunsden, Peter Cattrell, Pip McCarroll and Todd) 62 11, Craig Nicolai (NZL) Just Ironic (owned by Nicolai) 69.4 16, Tim Price (NZL) Wesko (owned by Christina Knudsen) 79 21, Caroline Powell (NZL) Thornfield Jones (owned by Alan Bell and Powell) 90.8 30.