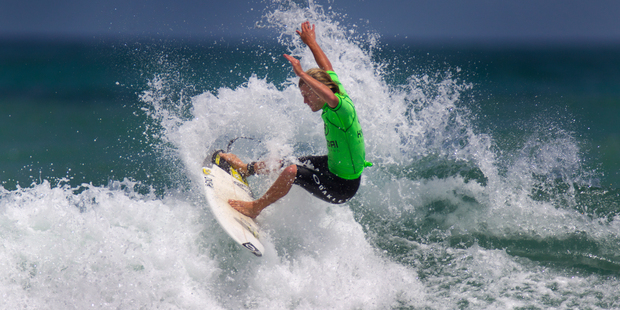 Raglan's rocky Manu Bay has been rated among the world's top surfing spots by American news organisation CNN.
Manu Bay, a point break which peels from the surfer's right to left, took 17th placing on the top-50 list.
The rankings were compiled with the help of Surfing Magazine and professional surfers and rely in part on surf culture and creature comforts as well as the quality of waves.
Pipeline in Oahu, Hawaii took first place.
CNN says of Manu Bay and Raglan: "Made famous in the 1960s as a location in the surf classic, The Endless Summer, atmosphere is key at this sleepy town. Bars and cafes play surf videos and serve healthy smoothies and fresh cakes. The waves on this wide-open bay range from one metre to about three, with an occasional barrel."
Surfing New Zealand chief executive Greg Townsend said: "Raglan is a world-class surfing destination - it's always been in that top 20.
"It's got consistency - it breaks a lot, that's why it's an attraction. It's got world-class breaks, a nice town and a great surfing culture."
He said Manu Bay's listing by such a widely-read source of news and information would inevitably attract surfers to New Zealand.
Former professional surfer Daniel Kereopa, 35, who runs a stand-up paddleboarding and surfing school at Raglan, said Manu Bay was a great wave, but, "I wouldn't call it one of the best waves in the world".
Asked for his best-in-New Zealand wave, he said, "It's a secret", but went on to suggest it was south of Dunedin.
South Coast Boardriders secretary Grant Godbaz, a former Raglan surfer, said Manu Bay "would definitely be one of the top 50 in the world". He reckoned the breaks at Shipwreck Bay, near Ahipara in Northland, were as good, but less consistent.
"Papatowai only breaks once or twice a year. It's one of the best big-wave spots in the world."
CNN surfing top 50
1 Pipeline, Oahu, Hawaii
2 Supertubes, Jeffreys Bay, South Africa
3 Teahupo'o, Tahiti
4 Uluwatu and Kuta, Bali
5 P-Pass, Pohnpei, Federated States of Micronesia
17 Manu Bay, Raglan, New Zealand
41 Surf pool, United Arab Emirates
50 Eisbach river wave, Munich, Germany.