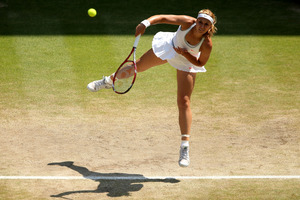 Win or lose last night, Wimbledon finalist Sabine Lisicki - now known in Britain as 'Doris Becker' - won't curb her emotional displays despite locker room resentment over her reputation as a drama queen.
The permanently smiling German, who tackled France's Marion Bartoli in last night's championship match, has won a huge following of British fans with her emotional run to a maiden Grand Slam final. But the 23-year-old is reportedly unpopular with many women players on the tour who feel she exaggerates her back story, which includes five painful months on the sidelines after suffering a potentially career-ending ankle injury.
Some rivals are weary of Lisicki's "having to learn to walk again" summary of her return to action, and they also say they are sick of hearing how she is allergic to grass [pollen].
After Friday's semifinal, Poland's Agnieszka Radwanska only managed a cool, abrupt handshake with Lisicki with half her back turned after the German had theatrically collapsed to the Centre Court turf in celebration.
"Should I just be there and dance? What could I do?," said Radwanska."I didn't feel like that (warmly congratulating her opponent) at that point."
Lisicki hit back: "I enjoy myself out there. Why shouldn't I show it?," she said. "I'm an emotional person. It helps me stay relaxed and to enjoy the game and play my best tennis."
Lisicki, the first German woman in a Grand Slam final since Steffi Graf in 1999 and bidding to become the first from her country to win Wimbledon since 1996 (when Graf triumphed), has her compatriots on her side. Graf sent her a good-luck message before the semifinal, while three-time champion Boris Becker has also been passing on tips.
Within minutes of reaching the final, she was honoured with the creation of a spoof Twitter account, @TheDorisBecker - the nickname earned for her booming game so suited to the All England grasscourts where her record stands at 19-4 compared to a mediocre 16-15 at the three other Slams.
Oddly enough, she had to overcome her physical difficulties with grass: "I used to hate grass. I have strong allergies to grass, and have to take medicine, but I have learnt how to handle this," she said. Meanwhile, Bartoli, is also an unusual player, with a quirky sense of humour off-court but deadly serious on it, despite her idiosyncratic style of play - constantly jumping and running on the spot, her aggressive double-handed forehand and backhand, her swinging service motion.
The 29-year-old admitted she was still feeling drowsy during her semifinal against Kristen Flipkens after an unscheduled nap, and was "seeing the ball like a football". She also once told journalists she had an IQ of 175, higher than Albert Einstein.
Bartoli has played some of the best tennis of her life over the past two weeks at the All England Club as she swept into the title match without dropping a set. She has always played with enthusiasm and intensity, but she concedes that attitude sometimes worked against her, making her unable to switch off away from the court.
She finally appears to have found a way to harness that energy after hiring 2006 Wimbledon champion Amelie Mauresmo - bringing a calmer approach to Bartoli's preparations. But, maybe because of her serious demeanour on court, she has found herself on the wrong side of the Wimbledon crowd this year - and was booed when she asked to stop play because of spitting rain in her quarter-final against Sloane Stephens.