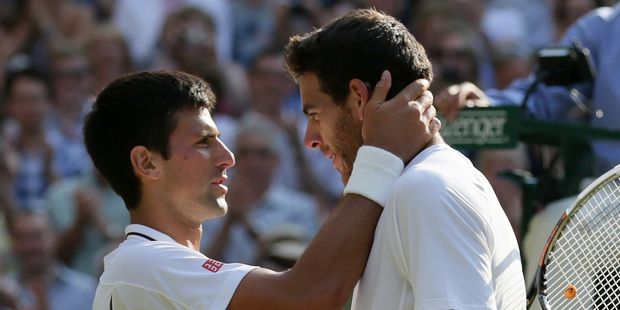 At the end, Novak Djokovic could only embrace Juan Martin del Potro in a touching reflection of truly superhuman exertions. In the longest, most exhilarating semifinal in Wimbledon history, the irresistible Serb finally ground down the gentle giant from Argentina, having captivated Centre Court with 4hr 44min of extraordinarily high-tariff tennis.
The All England Club had never seen a Friday like it, as the combatants traded pressure serves, brutal ground strokes and deliciously inventive drop shots to keep Andy Murray waiting in the locker room until 6pm. When, at last, Djokovic extinguished the last vestiges of a fightback to wrap up this 7-5, 4-6, 7-6, 6-7, 6-3 triumph, the crowd rose as one in salute.
"One of the best matches I've been a part of," Djokovic said. "One of the most exciting definitely. It was so close. You couldn't separate us. Exciting."
Tonight, Djokovic will play second-seeded Andy Murray, who defeated No24 Jerzy Janowicz 6-7, 6-4, 6-4, 6-3 to make his second straight Wimbledon final and move one win away from becoming the first British man in 77 years to capture the home tournament.
This will be their third meeting in the last four Grand Slam finals. Murray won at the US Open last year and Djokovic won in Australia this year.
With skies starting to darken, the Murray match was interrupted for a half-hour while the roof was closed over Centre Court. Murray protested the delay, saying there was still sunlight left. He had other reasons, too. He had just rolled off five straight games to close out the third set after falling behind 4-1.
"It's a tough situation," Murray said. "There were probably 45 minutes of light left. I'd like to think this is an outdoor event and you try to play as much as you can outdoors. But I managed to regain focus. I took a shower, talked to the guys a little bit and got back to it."
In his match Djokovic, the world No1, would not be deterred, advancing to a second Wimbledon final by putting away his fourth match point to quell Del Potro's Herculean defiance. This brutal contest, which stretched the peerlessly athletic Djokovic to the limits of his endurance, shattered the previous semifinal record of 4hr 1min as the players toiled in baking temperatures.
While Boris Becker and Ivan Lendl had also gone beyond four hours in their last-four battle in 1989, this match belonged on another planet. So fearsome were the rallies, so implacable the pair's resolve not to cede an inch to the other, that Del Potro could not even sit in his chair during the fifth set without requiring a shoulder massage from the trainer.
Djokovic heralded it as one of the finest matches he had ever been involved in - no mean accolade, when one considers his catalogue of marathon duels.
"I know that I have been pushed to the limit today, as my opponent was also," Djokovic said. "It was one of the most thrilling matches that I have ever played, especially here in Wimbledon."
The determination of Del Potro was staggering. Only two days earlier he looked briefly as if he might not be able to continue in the event at all, after falling horribly at the start of his quarter-final with David Ferrer. But here he was, chasing down volleys as if his life depended on it and almost contriving a way past the remorseless Djokovic.
Almost. Djokovic is increasingly regarded as the Nureyev of the tennis court for his supreme suppleness and he frequently needed to do the splits and shape his body in extravagant contortions to bat back Del Potro's heavy, powerful forehand.
Djokovic knew he was in for a draining struggle as early as the first set, when Del Potro held his own on serve. But with the score at 6-5, the top seed shifted up another gear to record what was, remarkably, the first break against the Argentine all fortnight.
Then the entertainment began in earnest. Del Potro, the 2009 US Open champion, looked restored to his pre-injury days by breaking Djokovic to love and taking the second set 6-4, much to the raptures of his audience. The fans might have all congregated in anticipation of Murray, but they warmed to his sense of humour and habit of playing up his exhaustion after punishing points.
"They help me a lot for fight, to keep trying, keep going," del Potro said of the crowd. "Of course I'm sad now, but in a couple of days, I will see how big the match was."
Little, though, could have prepared the fans for the epic intensity of the third set. As so often with Djokovic, the baseline exchanges grew more and more ferocious and yet at 3-3, an inspired Del Potro somehow carved out two break points. On the first he found the net with a volley, and on the second he miscued with an attempted backhand pass.
Djokovic did not quite believe the artillery being fired at him. At one stage he smiled in wry incredulity as Del Potro, on the run and flailing to make his ground, managed to muster a winner from an apparently impossible angle. He could only grin again when his adversary saved a third set point by crushing another forehand that just caught the baseline paint.
It was Del Potro, though, who succumbed to gnawing pressure in the third-set tie-break, Djokovic firing a beautiful backhand winner to come through 7-2. That could have started the demise but Del Potro stayed strong.
Djokovic snaffled a break to move ahead 4-3 in the fourth, only for Del Potro to launch an immediate riposte by levelling with a lashed backhand down the line. Not for the first time, he recovered from 0-30 but he saved the most dramatic fireworks for the tie-break, fending off two match points with the bravest of retrieving.
Into a fifth they headed, the spectators suddenly conscious of watching a Wimbledon occasion for the ages. Amid a fevered atmosphere the decider went with serve until, at 4-3, Djokovic broke decisively. True to form, Del Potro forced one more break point but the 2011 champion refused to be denied, threading a backhand down the line to seize his moment.
"I think this match is going to be a memory for a few years," Del Potro said. "We play for four hours and a half on a very high level."
It might have been intense but it was also intensely entertaining - especially when Del Potro played to the crowd and exchanged a few fun back-and-forths with his opponent. In the sixth game of the fourth set, the Argentine chased down a drop volley and flicked a forehand down the line. His momentum carried him to the other side of the court and the shot was called out.
Should he challenge?
"He asked me, What's going on?' I said, 'Listen, if I was you, I would challenge,"' Djokovic recounted. "He said, 'No, but you know it's out and don't waste my challenge.' I said, 'OK, you decide whatever you want. But truly, I'm not lying to you."'
All this was done with smiles on their faces. Del Potro opted against the challenge but won the fourth set anyway, putting his 4-6 lifetime record in five-setters against Djokovic's mark of 18-7.
"You can see I played my best tennis ever on grass court," Del Potro said, "but was not enough to beat the No1 in the world. I was so close."
He was - and this was a glorious, mesmerising match, a privilege for all who saw it.