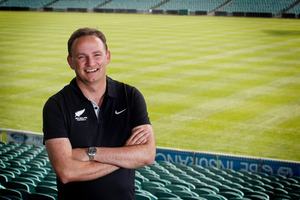 Grant McKavanagh's departure could provide the impetus for a "musical chairs" scenario at New Zealand Football, with high performance director Fred De Jong stepping into McKavanagh's role and All Whites coach Ricki Herbert moving upstairs into De Jong's job.
McKavanagh resigned on Friday and while NZF will conduct an extensive executive search for his replacement, football insiders maintain that De Jong will be a strong contender for the job.
He has an impressive CV, important contacts within Fifa and Oceania football and a good relationship with the current board. Herbert is due to retire as head coach at the end of this current campaign (which could be November or July, depending on results) but the Herald on Sunday understands that he has already been linked with the high performance role at NZF.
Meanwhile, McKavanagh has been quick to refute suggestions that he was pressured into resigning by the national board, saying that the decision was made for purely personal and business reasons.
"I'm not in a position to commit for the next two, two-and-a-half years and that is the crux of it," McKavanagh told the Herald on Sunday. "This is an all-consuming role and it is time for someone else to run the next phase. But I've never had one performance management meeting in my time at NZF. There were some tensions but that is normal in any organisation - especially one undergoing the level of change undertaken at NZF.
"It is never a smooth road in any business and everybody is under pressure," added McKavanagh. "I would add that if everybody was as happy as a lamb, I would say that the CEO wasn't doing his job."
McKavanagh was appointed just over two years ago with a mandate to change and re-structure the organisation, much of which has now been completed. He has also tried to make NZF into a leaner and meaner organisation and says the national body will go close to breaking even for the first time in years this year, without having to dip into its reserves.
"He was brought in to re-structure NZF," one senior staff member told the Herald on Sunday. "That caused some tensions - as it would in any business. His management style could sometimes be perceived as quite aggressive and maybe he lacked some diplomacy at times but he was also very determined and you always knew where you stood."
"Some people like change and some people don't and I guess that is what happened," said outgoing head of football development Bev Priestman. Priestman, who is going to work for the Canadian Football Association alongside former Football Ferns coach John Herdman, stressed she had nothing but respect for McKavanagh's leadership ability and her departure was solely due to an opportunity to return to hands-on coaching.
NZF Chairman Frank van Hattum denied that the timing of the decision was strange, just months before the make or break World Cup qualification games in November.
"There is never a good time to leave," says van Hattum, "but when someone has made their mind up, that is normally when a decision comes. Grant made a decision to resign and that's all there is to it."
Van Hattum wouldn't comment on talk of performance issues but emphasised that there is always a "healthy tension" between boards and CEOs.
Van Hattum added that the board were due to meet early this week and the search for the new CEO would be at the top of the agenda.