Lack of depth in tight five likely to haunt squad next season, writes Gregor Paul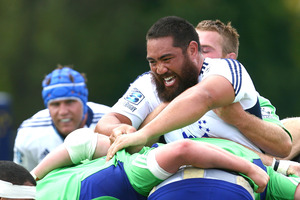 There's no doubt the Blues need a bit of star quality at first five-eighths next year but their biggest concern on the recruitment front is strengthening a tight five precariously short of depth and genuine clout.
However, they are going to run into the same old problem - forced into recruiting development players or looking offshore as most of the seasoned professionals they want are locked in elsewhere.
Having reached the periphery of the play-offs this year, the challenge for coach John Kirwan in 2014 will be to advance his side in terms of their level and consistency of performance and position on the table.
Focus will inevitably fall on the two first-fives - Chris Noakes and Baden Kerr - who are functional and organised but certainly not in the same leagueas the likes of Daniel Carter, Aaron Cruden or Beauden Barrett.The latter is off contract with the Hurricanes and has said he's not certain to stay. The Blues have his brother under contract and have tried twice before to lure Barrett without success ...
Colin Slade is also coming off contract and the season from hell he has endured with the Highlanders will have him carefully assessing his options - with the Blues being the New Zealand side with the most obvious need to be strengthened.
Understandably, Kirwan is looking for star quality but, unless the Blues improve their scrum and lineout and develop more presence at the collisions, it won't matter who they ask to be their playmaker in 2014, there's not a No. 10 in world rugby who could win his side a title on the back foot, operating behind a retreating pack.
There have been occasions this year - most memorably the defeat of the Stormers and Crusaders - when the Blues pack has delivered 80-minutes of graft, aggression and quality possession. But consistency has been beyond them and that's had much to do with their lack of resources.
Injury to Charlie Faumuina left them exposed in the front-row. AngusTa'avao stepped in admirably at tighthead, tackling hard and contributing around the field, but his inexperience at the set piece was a problem. The scrummaging issue was more acute at loosehead where neither Tim Perry nor Tom McCartney - who was converted from hooker - convinced, while there was a reluctance to play the 130kg but raw Ofa Tu'ungafasi. Resource wasn't so much of an issue at lock this year but will be next season. Anthony Boric has already announced his departure and there are concerns about the longevity of Ali Williams. The Blues need to recruit seasoned prospects at prop, lock and probably even hooker given the age and uncertainty about Keven Mealamu's continually nagging calf.
The problem is finding them. The best players - the ones the Blues would really like to sign - are all under contract. Sam Whitelock, Luke Romano and Dominic Bird at the Crusaders; Brodie Retallick at the Chiefs and Jeremy Thrush at the Hurricanes. Craig Clarke is leaving for Ireland; Brad Thorn is close to 39 and the rest who regularly play at this level probably aren't much better than what the Blues currently have available.
New Zealand under-20 lock Patrick Tuipulotu has been signed but while he's a fine prospect, he might not be quite ready by next year. It's the same at prop: Ben Afeaki, Ben Tameifuna and Pauliasi Manu are all staying at the Chiefs; Jeffery Toomaga-Allen and Ben Franks are locked in at the Hurricanes and neither Owen Franks nor Wyatt Crockett are leaving the Crusaders, who will also be determined to hold on to the emerging Joe Moody and Nepo Laulala.
Jamie Mackintosh would have been an ideal purchase but he's chosen to sign with the Chiefs. The Blues, as they had to last year, are going to have to focus on acquiring young, development players.
They will also trawl their net offshore but Super Rugby is a hard sell to foreign players - the money is comparatively poor and anyone with Six Nations ambitions has to give them up.
The advantage the Blues may have now in approaching foreign talent is the luxury of deeper pockets following the injection of private capital through the consortium investment group that have bought a major stake in the franchise.
It is that capital that is no doubt fuelling the talks with NRL star Benji Marshall.
The New Zealand Rugby Union are unlikely to be willing to make a significant, if any, contribution to bring a 29-year-old league player to New Zealand - especially when they already have three high quality No 10s within the All Blacks.
While Marshall's agent has said his client is willing to take a pay cut to play rugby in New Zealand, the Blues would still likely have to stump up in the region of $400,000 - if not more - to tempt the Tigers star who is estimated to currently earn around $700,000 a season.
If they over-commit on one player, and a high risk player at that, they will compromise their ability to recruit the depth they need in their tight five and Super Rugby demands now that teams have options there.
Look at the Chiefs - they can bring Ben Tameifuna, Toby Smith and Hika Elliot off their bench, as well as Mike Fitzgerald.
The Crusaders are much the same - they have three of the best locks in the country in Whitelock, Romano and Bird and experienced veteran international Tom Donnelly in reserve.
The Chiefs and Crusaders are, by some distance, the two best sides in New Zealand and some of that has to do with the quality of their respective No 10s.
But much more is due to the fire-power they have up front.