As Aussies move freely, Ferns must stay put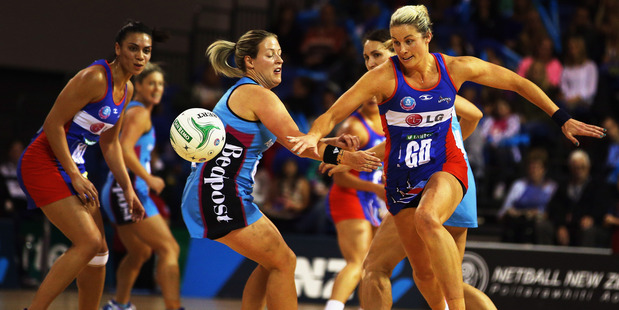 Australian coaches are on our shores and there's been a swag of their players in recent years but the door remains shut on New Zealand netballers plying their trade across the Tasman.
In the wake of former Swifts coach Julie Fitzgerald's ascension to the Magic job, as well as four of the five New Zealand franchises having Australian imports on their rosters, it's an inevitable question - but the answer hasn't changed.
"It is quite black and white," says Netball New Zealand CEO Raelene Castle. "To be selected for the Silver Ferns you have to be playing for a New Zealand franchise; that is where it starts and stops."
The NNZ approach is similar to the New Zealand Rugby Union's stance, who refuse to hand out national honours to overseas-based players. However, the difference is that New Zealand netball has benefited significantly from imported talent in the last few years.
The last two plum coaching jobs in this country have gone to Australians, with Vicki Wilson given the role as Wai Taumaunu's assistant and Fitzgerald, confirmed as the Magic's new coach last Friday.
Former Diamond Natallie Avellino was also co-coach of the Steel last season.
Julie Corletto (Mystics) is the latest and most high profile Australian player while current Diamond squad member Caitlin Thwaites has been at the Pulse since 2011. Former national representatives Megan Dehn, Peta Scholz, and Natasha Chokljat have played here recently and Khao Watts (Magic) and ex-Diamond Demelza McCloud (Steel) turned out for local franchises this season.
Netball Australia prefers its players to remain on Australian soil but is open to the idea of picking players based overseas, hence Corletto and Thwaites remaining involved in the Australian set-up. However, New Zealand's rule is hard and fast, making it difficult for the likes of Laura Langman, Maria Tutaia or Casey Kopua to consider offers from Sydney, Melbourne or Brisbane.
"It is very important for us that our Silver Ferns and potential Silver Ferns continue to play for New Zealand franchises," says Castle. "We want them to be within the New Zealand coaching pathways and have regular contact with Wai [Taumaunu] throughout the season as well as their franchise coaches. So I don't think it is something that we would look at."
Castle concedes that rugby-style sabbaticals may be considered in the future but they wouldn't be served in Australia.
"A sabbatical might involve study overseas or a spell with an English team," says Castle. "But fundamentally, no matter what level of Silver Fern they might be, they wouldn't get an exemption to go and play for an Australian team."
It is obvious that losing several top players to Australian franchises would weaken the New Zealand teams and be to the detriment of the sport in this country. But it is hard to see that much damage being done by Langman, for example, turning out for the Swifts or the Vixens. It would heighten interest in the competition and also expose her to the Australian modus operandi and style, which she could bring back to the national fold.
On the other hand, Netball NZ's ultimate aim has to be to win world championships and if they feel removing key players from the environment here would affect that goal, then they would believe they are right to stick to their guns.
Castle served out her last day last Thursday after six years at the helm. She nominates a stable ANZ Championship as one of her greatest achievements over that time and notes that the overall 'netball economy' has grown by about $30 million since 2007, thanks to broadcast revenue, ticket sales and merchandise.