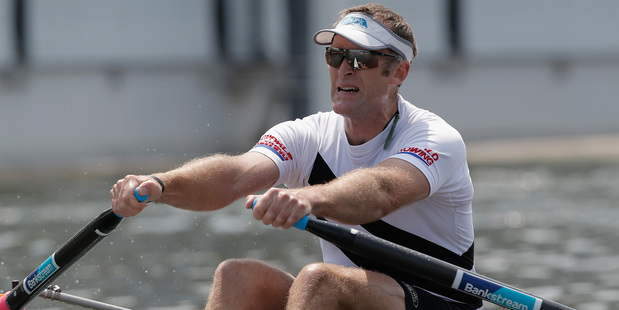 Olympic champion Mahe Drysdale now knows the training anguish he needs to endure to get within striking distance of a medal at the world rowing championships next month in South Korea.
Drysdale was beaten in the quarter-finals of the Diamond Challenge men's single sculls yesterday at the 164th Henley Royal Regatta. Aleksandr Aleksandrov of Azerbaijan extended a 2.14s lead at the half mile mark into 7.41s (or four and a half lengths), by the end of the one mile and 550 yard course. Aleksandrov finished fifth at the London Olympics.
Walking up the Berkshire side of the course, picnic parties began murmuring Drysdale's name in startled tones as he struggled to maintain parity with his opponent midway through the race. The exertion emitted by the 34-year-old Kiwi was audible on the embankment as he begins a three-year journey in pursuit of a second Olympic gold in Rio de Janeiro.
"I haven't done much training and it affected me. I didn't do as well as I would have liked.
If I can find 12 seconds over 2000m in the next couple of months, I'll be confident of getting back among the medals.
Drysdale's break from rowing training to race an ironman, endure the coast-to-coast and climb Mt Kilimanjaro took its toll: "It's an awful realisation you just don't have enough to give but it's a fair reflection of where I'm at. If I came back and wiped the floor we'd be saying the event was too easy."
Drysdale is a three-time champion at Henley and his advocacy of the regatta is a big reason why it has become a popular addition to New Zealand crews' itinerary between World Cups in Europe. It's estimated up to 25,000 pints of Pimm's, one ton of strawberries and around 4500 bottles of champagne are consumed during the regatta. Drysdale says the latter contributed to one of his lighter moments in the past.
"I remember one year coming down in a semifinal and having some guy spraying me with champagne. The party he was with was loving it; everyone was cut."
Drysdale finished third in his first race back at the Holland-Beker regatta last weekend. He will trial on July 22 to contest the single sculls berth for the world championships which begin on August 25.