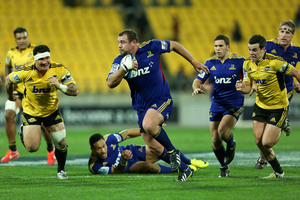 Hurricanes 44
Highlanders 49
It's not often that a dead game has so much life. It's not often that a supposedly dead team has so much life either but whether it was luck, probability or something they had been saving up for, the Highlanders delivered a performance that was emphatic for just long enough to see them squeeze home.
That they scored 49 points and nearly lost sums up the random and impossible nature of the game. At 35-13 the Highlanders had the game in the bag. At 49-27, they had the game in the bag - but somehow, not once, but twice, the Hurricanes were able to find their way back into the game.
The Highlanders were determined not to nail the coffin shut and what a tragedy that would have been. Because they were superb on the counter attack, structured on defence and aggressive in the collisions for 50 minutes. It was rugby as they simply haven't played this year. It was rugby that was frustratingly good - in that made a mockery of their bottom place on the table and alluded to how their season should have looked.
They were helped no end by the fact the Hurricanes were unacceptably bad for 50 minutes. Who would know what happened there? They couldn't hold the ball. They couldn't make their tackles or hold their shape. They ran too laterally, asked too few questions and made a mountain of unforced errors.
By the time they settled, found some kind of flow, they were a long way back.
When Aaron Smith was yellow-carded after 50 minutes, there was virtually no prospect of the Hurricanes hauling the game back - but they so nearly did. They got to within eight points before Smith returned.
If the Hurricanes had been able to consolidate at 35-27 once the Highlanders, the final quarter would have been especially dramatic. But no - they made the mistake of slipping off Kade Poki again and then compounded matters by doing the same when the ball reached Hosea Gear on the other wing. Given some space, Gear breezed past three defenders to score and two minutes later Elliot Dixon was storming under the posts after TJ Ioane had been able to break four tackles and then make a no-look pass.
That Dixon score restored some kind of order on the scoreboard if not the game.
The rugby was fast and furious - almost ludicrously open and again two quick tries by the Hurricanes left them within touching distance by the last five minutes.
The Highlanders knew they had to hold on because they had put in far too much to throw it away. If nothing else they owed it to Colin Slade, the forgotten man, who suddenly gave a reminder of why he was the man the All Blacks chose to back up Daniel Carter in World Cup year. He's had a horrible time since he limped out of the World Cup semi-final in 2011 has Slade.
He had to see first Aaron Cruden then Stephen Donald steal the show after Carter was ruled out of the tournament. Then he badly broke his ankle last year and really, probably, the reason he's starting to come good now is that he's finally fully physically restored and as a result, mentally in tune with the game again.
He kicked superbly off both feet and he launched a thrilling counter-attack from deep inside his own half when he beat three defenders and slipped a one-handed pass to Hosea Gear that led to a spectacular try.
It was his timely interjection after Ben May hopelessly charged out of the line that led to another opportunist try midway through the first half and his confidence soared from there until he was bizarrely subbed after an hour.
Hurricanes 44 (A. Dixon, B. Franks, J. Savea, C. Smylie, J. Broadhurst tries; B. Barrett 5 cons, 3 pens), Highlanders 49 (M. Tuiali'i, T. Ellison, A. Smith, K. Poki, H. Gear, E. Dixon tries; C. Slade 3 cons, 3 pens; H. Parker 2 cons).