De-listed by the Crusaders but enlisted by bonny Scotland, the boy from Tokoroa has taken off with a roar with the Lions, writes Wynne Gray in Sydney.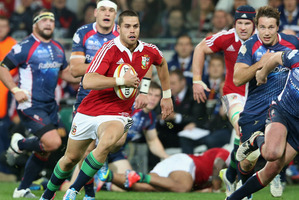 Touring Australia with the Lions, a tilt at the Commonwealth Games next season, a World Cup in 2015 and a repeat Lions trip to New Zealand in four years time. Where once he was troubled by his rugby future, Sean Maitland now sees a cluster of opportunities after his switch to the Scotland ranks.
The boy from Tokoroa is now a test right wing and was within a touch of playing in a Lions test in Brisbane. He was on the bench and, with giant George North protecting a hamstring problem, Maitland was on edge about a call-up most of the night.
That did not occur but it was a tiny glitch in his career since he left his Crusaders stronghold and headed north of the equator.
"I'm a confidence player and this trip has given me that sort of boost," he said on the eve of the Lions series decider in Sydney.
"It's been a crazy seven months since I decided to leave. I would never have pictured this, playing for Scotland and then being on the Lions tour.
It has been a big rollercoaster ride for me, an amazing experience and probably the best thing I have ever experienced in rugby."
He was staggered at the amount of organisation and detail for this trip with a travelling crew of about 75 players, support crew, management and officials, upping sticks in the Home Nations to visit Hong Kong and all points of the compass in Australia. The environment has been great, the players had bonded well and had socialized and trained with equal venom.
It makes Maitland want another taste in 2017 when he should be in his prime at 28 and the Lions are scheduled to return to New Zealand. His more immediate focus is some rest when he gets back to Glasgow, another Six Nations and ideas about having a crack at sevens in the 2014 Commonwealth Games in Scotland.
Initially he was anxious in his new surroundings. There was pressure as the hired gun from New Zealand. He was out of his comfort zone away from the Crusaders and Canterbury, his home for six years, where he made many friends and met his wife.
"It was difficult to leave. When I first got there, it hit me. I was in a different country with my wife but talking to guys who have made the move, they say it takes a good six months for things to become the norm," he said.
So how well does he know his new home? Maitland reckons he knows the places not to go as we decided to put his local knowledge to a quick test.
'Who was the famous tea tycoon from Glasgow?' Kinnocks came the answer. Not a good start as we looked for Thomas Lipton, of America's Cup fame.
'The biggest beer brewer?' Tennents. Funny he should know that.
'What is the castle in Glasgow?' There isn't one. Spot on, laddie.
'Is Glasgow the largest city in Scotland?' Yes. He is in the swing.
He is up to speed with the play on the field too: "I made my decision to go to Scotland because of the ancestry opportunity and because there were lot of guys in front of me for test rugby," he said. Crusaders coach Todd Blackadder wanted to de-list him, then he got injured and was not 100 per cent when he played and got dropped.
"It snowballed and when I was told in the ITM Cup I was going to be de-listed, it was a tough time for me," Maitland said.
"They talk about loyalty but you have to remember rugby is a business and a job so I looked at my options. I could have stayed with another franchise but I drew a line in the sand to pursue other goals and that was to head overseas," he said. "I always knew I had that option. The time was right."
Maitland is on 48 games for Canterbury and would like to go back and play his 50th at some stage. But Glasgow is his snug now.
"Living there is so different. Little things like you have to wake up half an hour earlier to scrape the ice off the car windscreen and that sort of thing, takes time to get used to.
"It is colder and there is a lot more rain.
"You go under the radar there and I like that. Rugby is not the number one sport at all. It is all football with Celtic and Rangers."
Lions comrade Richie Gray has signed to play in France but Stuart Hogg, Ryan Grant and Maitland all play for the Glasgow Warriors.
"We play a good brand of rugby, get the ball out wide and want to have a good crack at the next Heineken Cup campaign. We put 50 points on Munster in one match, I felt sorry for Rob Penney and Casey Laulala."
So how has Maitland been accepted?
"I could have played in France and still been eligible for Scotland but I thought the right thing to do was go to the country, play for one of their franchises and say to the people I am serious about playing for your country," he said. "I only played four or five games and was then in the Scotland team so I knew people were going to say things. I hope that the next Six Nations (under new Kiwi coach Vern Cotter) and this Lions trip will help.
"It had been a great experience and I was grateful that, finally, I scored a try against the Melbourne Rebels. I have been a bit disappointed I didn't get a test run but this team is one of the tightest teams so far."
Coach Warren Gatland had been a great boss and they talked a fair bit about their Hamilton Boys High connections. Backs coach Rob Howley set high standards on the training field and that rubbed off.
Maitland had been in a tough test selection battle on the wing against the massive George North and Alex Cuthbert while Tommy Bowe was all class.