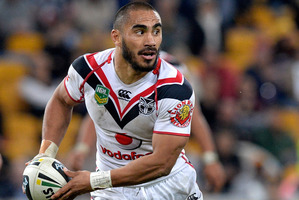 It's just as well Thomas Leuluai tends not to read newspapers or follow sports media, as he may have been buried under the avalanche of criticism that came his way earlier this year.
With the Warriors' dismal start to the season, much of the blame was directed at the newly arrived import. 'He lacks pace', the critics cried. 'His passing isn't up to it and he is too predictable'. The vitriol came from both sides of the Tasman.
Former Kangaroo Matthew Johns, now a prominent media personality, even suggested that Leuluai, while an accomplished hooker, was not up to NRL standard as a half. Johns added that Leuluai lacked the pace and ball skills for a No6 and was a major reason for the club's struggles.
How the worm has turned. Now he is playing behind a team going forward, Leuluai has been one of the key men in the Warriors' recent rich vein of form, arguably more influential and consistent than halves partner Shaun Johnson. The 1.75m, 86kg Leuluai is different to many of the halves in the NRL but fits the Warriors' requirements perfectly.
He often directs matters from first receiver, brings a solid kicking game and runs straight at the line as well as any half in the competition, freeing up vital space for his outside men. He is also like an extra forward on defence, being one of the most accomplished defenders, pound for pound, in the NRL.
"The team wasn't playing well and I wasn't going that well," recalls Leuluai of the team's poor start to the season. "It has to be expected that I would cop the brunt of [the criticism], being one of the playmakers and a new guy. But it's different as you get older - you learn to cope with it."
Leuluai admits it took time to find his feet in the NRL again, having not played down under since 2004. There were different systems and structures to learn and a whole squad to get to know. He had mainly played at hooker in Super League, now he had the No6 jersey on his back in a team that needed to be rebuilt.
"It took a while to feel comfortable [in the NRL]," admits Leuluai. "It is obviously different and a bit faster. You might be looking for that extra split second and you just don't get it."
The pain at the start of the season wasn't a complete surprise: "We had a new coach, new players, new staff - new everything," explains Leuluai. "Things were always going to take a while to gel. I guess it just took a lot longer than everybody had hoped or wanted."
Leuluai is one of just four players to take the field in all 15 games this year and also the only one in the squad who has played every minute of every match. Over the last five games, Leuluai is averaging more than 52 metres with the ball in hand and 16 tackles per match. He has also contributed three tries, 10 tackle breaks and - despite touching the ball more than almost any other player (Nathan Friend excepted) - he only has made two errors across the last 400 minutes of football.
He feels the team is starting to get the balance right between structure and surprise, function and flair.
"We needed to be more structured and we have been," says Leuluai. "But with the players we have we will always have that element of flair and surprise. The main thing is that we have been more direct. We are now going forward first before we look to go sideways."
It too early to be talking World Cup prospects though it is clear that with his utility value, current form and long background in the Northern Hemisphere, Leuluai would be hard to leave out of Stephen Kearney's 24-man squad. For now though, there are nine NRL games remaining and a fight to make the top eight.
"People are taking more notice of us now," says Leuluai. "They will be analysing us a lot more, looking at us closer - earlier in the year I don't think there was much respect for us."
The assignment starts tonight against the top of the table Rabbitohs, who have only dropped two matches all season. Historically, the Warriors have a strong record against the Redfern-based team, winning 18 of 26 matches between the two clubs. They pushed them close earlier this year and are a team that can match them, especially in the forwards.
"I thought we troubled them in [round five]," says Leuluai. "But they have improved and will be very tough. All of their players are going well - that is why they are sitting on top of the table."