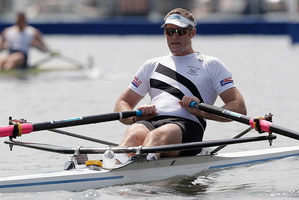 Olympic champion Mahe Drysdale has been beaten in the quarter-finals of the Diamond Challenge men's single sculls at rowing's Henley Royal Regatta.

Aleksandr Aleksandrov of Azerbaijan knocked him out after extending a 2.14s lead at the half mile mark into 7.41s (or four and a half lengths), by the end of the one mile and 550 yard race.

Aleksandrov was fifth at the London Games.

Drysdale's break from rowing training to race an ironman, endure the coast-to-coast and climb Mt Kilimanjaro took its toll.

"It's hard when I know what I am capable of. When I was racing I decided the moment I was going to move away and I didn't move. It's an awful realisation you just don't have enough to give, but it's a fair reflection of where I'm at. If I came back and wiped the floor we'd be saying the event was too easy.
"Mahe is a hero of mine," Aleksandrov said. "He's a great guy with a big heart and I still feel really confused as to how I beat him."
Drysdale finished third in his first race back at the Holland-Beker regatta last weekend.
He will trial on July 22 to contest the single sculls berth for the world championships in South Korea starting on August 25.