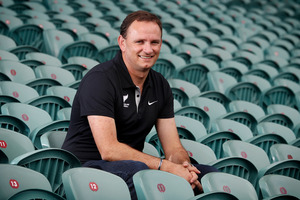 Grant McKavanagh jumped from his role as New Zealand Football chief executive before he was pushed.
One of his last acts in the role was to finalise the venue for November's World Cup playoff, which was confirmed as Wellington only hours after his resignation. It was a classic attempt by the national body to quickly divert attention from the resignation of their leading administrator.
It's understood McKavanagh's performance had been heavily scrutinised in recent times, and even though he All Whites are on the verge of their most important assignment of every four years, the time was seen as right for him to go.
This was hinted at in a fairly loaded statement released by NZF, where McKavanagh talks about "the next period of evolvement for NZ Football requires [someone with] a different skill-set than mine".
Chairman Frank van Hattum also weighed in when he said: "Football and indeed sport management is a complex and difficult area to work in with many competing stakeholders, the inevitable struggle for sustainable funding and resources and a large agenda."
One source said he was not surprised by the announcement, only that it had taken so long to happen.
Several people have left NZF in recent times, including head of football development Bev Priestman and former commercial manager Peter Hunt, and many staff didn't feel as if they knew what was going on.
McKavanagh, who could not be reached for comment, had been in the role for a little over two years and talked when appointed about it being his dream job. The timing of his resignation appears curious because the end of the World Cup run, whether that is November or next July, appears a more logical time and he had yet to complete the restructure of the organisation he was trying to implement.
But he came under increasing pressure from the board to improve his performance or opt out and he chose the latter.
High-performance director Fred de Jong, who was described as a chief executive-in-waiting when he took over his role nearly 12 months ago, is a leading candidate for the job.
Many have said he is probably better suited to the chief executive's position and he has good experience of the politics of football, having been on the board of NZF for 10 years, been an Oceania vice-president and also been a member of the World Cup organising committee. He was also general manager of software company StayinFront Asia-Pacific.
Auckland Football chief executive David Parker is another likely candidate.
Wellington got the nod over Auckland for November's intercontinental playoff partly for historical reasons (the All Whites beat Bahrain 1-0 there to qualify for the 2010 World Cup), because they seemed to want the game more than Auckland and because it was not certain Eden Park would sell out for the midweek match.
The home leg against the fourth-best nation from North and Central America will be played at Westpac Stadium on November 20.
• After the own-goal of losing the English Premier League, Sky Television looks to have secured the rights to next year's Fifa World Cup. The Herald understands the pay TV network has locked up the major prize of world soccer's showpiece tournament, one of the most watched sporting events in the world.
- APNZ