Lions series decider may not settle the future of under pressure New Zealand coach as challengers wait in the wings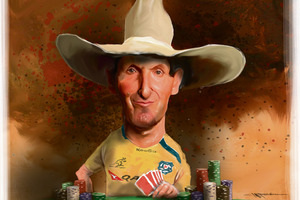 Robbie Deans carries the impassive stare of a man who would do well in the Las Vegas casinos.
Stick him on a table with a few of the high rollers and they would soon be questioning if Deadpan Dingo had a pulse. There are few visible signs of the pressure which continues to rise on Deans about his tenure as Wallaby coach. He rarely vents in public, he picks his words carefully and while the delivery often lacks intonation, he delivers his messages with consistent repetition. His stare is impervious and there is little physical evidence of any inner distress.
Deans is no larrikin, there is none of the swagger and bluster which Australians like from their public leaders and he is as stubborn, determined and politically sharp as any in the rugby community.
When he makes a decision he sticks with it and shifting James O'Connor to five-eighths for the Lions series is his most recent example. It is a move which has split rugby followers and may decide Deans' future in tonight's decider.
The 53-year-old moved across the Tasman six years ago but his manner has not changed one iota from his days in Christchurch. He did not seek the limelight there and is the same in the highly competitive commercial media market in Sydney and beyond.
He does much to advance his sport and away from his international duties, often coaches schools, clubs, shires in far-flung areas.
But Deans does not give it a public burst as the more garrulous Bob Dwyer, Alan Jones, the late Greg Smith, John Connolly and Eddie Jones did during their times with the Wallabies.
Deans falls into the measured category where Rod Macqueen used to frustrate his audiences. At work, with his Wallabies, Deans is more animated. He is the ringmaster in his arena while at public question time, he does not have the same control.
He is still deliberate at training and that is his biggest strength. Deans does not display the abuse and ranting which marked too many coaches' ideas of their work.
When something really aggravates him, Deans does bristle. Some of his sizzling venom is lost on those without his education but the displeasure is apparent.
He and his management group may not have been able to control the rebellious social factions which inhabit the Wallabies but when Deans lets rip, he stings. That is just one of the battles he is fighting as the questions keep coming from many angles, from former players and coaches, about his Wallaby coaching longevity and six-year stretch in the job.
This week new chief executive Bill Pulver seemed to deliver more ambiguity. When he was appointed in January, Pulver said of Deans' work: "To be absolutely clear ... Robbie will be coaching the Wallabies right through 2013." This week Pulver's view was; "Look I have made it clear all along that Robbie Deans' job is not hinging on the result of the British and Irish Lions tour."
What does that mean? At first glance the statement appears unequivocal but it is an ambiguous declaration, perhaps deliberately so.
Has Pulver expressed explicit ARU faith in Dean's ability to guide the Wallabies through the series and beyond through the Rugby Championship and end of year expedition or are there other forces at work?
The solitary point win in Melbourne to level the Lions series may not have been a landslide vote for Deans' retention but rather a stay of execution. Crowds are up and TV ratings have soared for the Lions tour but Deans' opponents argue that would have occurred if Jiminy Cricket was coaching the Wallabies.
Those critics worry what the reaction will be how Australia will react when the Lions tour is over and the rugby hysteria has departed for all points in the Home Unions.
Think about Pulver's statement. Was he definite or obtuse?
Deans' job may not hinge on the Lions tour but it will encompass other issues such as persona, marketing, public interaction and just that it may be time for a change. It's two years out from the World Cup. It's probably change now or wait until after that.
Several men have their eyes on coaching. Ewen McKenzie and Jake White are forceful alternatives, something the ARU have not always had.