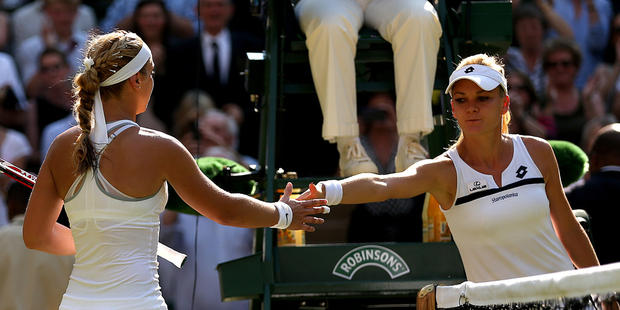 Twenty third seed Sabine Lisicki will face 15th seed Marion Bartoli in the women's final of Wimbledon on Sunday morning (NZT).
It is an incredibly unlikely matchup, but how does it compare with five of the unlikeliest finals in the Open era?
nzherald.co.nz takes a look.
1. Marion Bartoli (FRA) v Sabine Lisicki (GER), Wimbledon 2013
Serena Williams, Maria Sharapova and Victoria Azarenka have dominated tennis over the past 12 months and you would have got nice odds on a winner coming from outside of those three. For none of that trio to even reach the final is truly shocking.
Lisicki has a game based around a big serve, so it's not a huge surprise that she has done well here.
Bartoli occupies a space outside the athletic norm - her quirky personality is in tune with her game, which is a cornucopia of chips, lobs and flat, two-fisted forehands. After a long career on the fringes, you'd have to say she goes into the final as sentimental favourite.
2. Richard Krajicek (NED) bt MaliVai Washington (US) 6-3 6-4 6-3, Wimbledon 1996
Krajicek had a big serve and, we would later discover, a big mouth, but in 1996 he was just a 17th seed (in those days Wimbledon seeded just 16 players but seventh seed Thomas Muster withdrew allowing Krajicek to grab the final seeded spot, though he was officially listed in the programme as unseeded) expected to be yet more grasskill for Pete Sampras.
Instead he accounted for Sampras in the quarter-finals in three closely contested sets. He'd previously beaten our own Brett Steven in four sets in the third round.
Washington was a nice enough player, although he offered little resistance in a final most famous for 23-year-old student Melissa Johnson streaking as the players were introduced.
3. Michael Chang (US) v Stefan Edberg (SWE), French Open 1989
6-1 3-6 4-6 6-4 6-2
Yes, both were seeded and, yes, Edberg was a classy, multiple Grand Slam champion, but this was still an unlikely final by any stretch.
Edberg was a genius volleyer, perhaps the best of all time, but his game was so unsuited to clay his No 3 seeding was considered nominal. Chang, seeded 15, was a 17-year-old Taiwanese-American kid nobody knew a lot about until he came from two sets down to beat overwhelming tournament favourite Ivan Lendl in the fourth round.
Edberg's progress was relatively serene, dodging all the claycourt big guns, until he beat another serve-volleyer, Boris Becker, in a five-set semifinal.
Chang's youth and vitality gave him a small edge in a five-set final.
Edberg never came as close to winning in France again, Chang never won another Grand Slam.
4. Brian Teacher (US) v Kim Warwick (AUS) 7-5 7-6 6-2, Australian Open 1980
The Australian Open threw up surprise finalists like no other Grand Slam tournament, mainly due to the fact that it was poorly attended by the world's best players due to the time of the year it was played in and the often stifling conditions.
This tournament was played on the baked grass courts of Kooyong. Teacher was seeded eighth and Warwick 14, though neither would be knocking on the door of the Tennis Hall of Fame.
This was Teacher's one and only Grand Slam title and it came with a unique rider - he became the first Jewish male to win a major in the Open era. His best result at the other three Grand Slams was 1982 quarterfinals at Wimbledon.
That same year, Warwick reached the quarters of the US Open, his best result in a Grand Slam anywhere bar Australia.
5. Barbara Jordan (US) bt Sharon Walsh (USA) 6-3 6-3, Australian Open 1979
It says something of the strength of the 79 Aussie Open that Walsh was seeded four and Jordan five (there were just seven seeds).
Walsh's highest world singles ranking was 29 in 1984 and she never claimed a WTA title, though she was regarded as one of the best doubles players of her era.
This tournament was Jordan's only singles success on the WTA circuit.
All things considered, it is difficult to imagine a Grand Slam final that has had less impact on history..