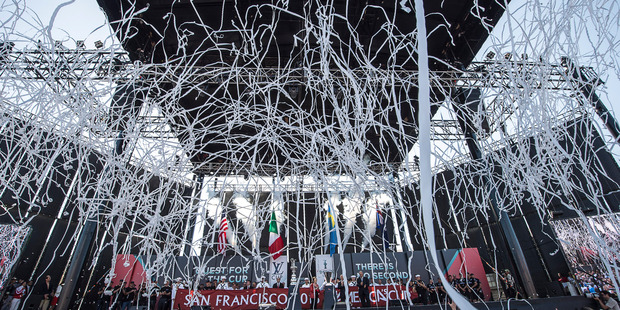 The America's Cup has been officially opened, with a glamorous and at times comically over-the-top ceremony at the event village in San Francisco today.
The two-hour ceremony, which coincided with the city's July Fourth celebrations, included cultural demonstrations from the countries of all four teams taking part, with Maori cultural group Te Waka Huia proving the crowd pleaser as they introduced Team New Zealand.
The ceremony also included a moving video tribute to Artemis sailor and British Olympian Andrew Simpson, who died on San Francisco Bay two months ago in a training accident.
With the Swedish team still coming to grips with the tragedy the emotion of the occasion was evident, with of the crew reduced to tears, while others put their arms around one another.
Later on stage, Artemis skipper Iain Percy, a close friend of Simpson, thanked the crowd for their support.
"It was obviously a terrible accident, but we are determined to get back on the water," he said.
The bitter in-fighting between the teams over the past week was pushed to one side for today, with all the skippers speaking glowingly of what a spectacular summer of racing it is shaping up to be on the Bay.
But with all the headlines today focused on yesterday's extraordinary press briefing from regatta director Iain Murray, the unrest in the Cup was never far from the surface.
There is no getting away from the fact that today's opening ceremony could be for an event that might not happen at all if Murray follows through with his threats to scuttle the jury fail to uphold his alterations to the design rule, which formed part of his 37 safety recommendations he put forward following Simpson's death.
Both Team New Zealand and Luna Rossa have challenges Murray's authority to change the Protocol and design rules just a week out from racing. The international jury will hear the protest on Tuesday - a day after the opening race of the LouisVuitton Cup.