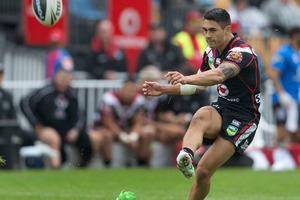 The results aren't the only thing to improve at the Warriors in recent times. Shaun Johnson has also found his radar when it comes to goalkicking, having landed his last 15 attempts after a wayward start to the season. It has helped that more kicks are from handier positions but he looks to have found better rhythm and confidence. He still has some way to go to replicate Trent Hodgkinson, with the Bulldogs kicker on a success rate of 95 per cent this season.
2 Vulcanised
The Warriors' heavy defeat to the Panthers six weeks ago was the catalyst for a significant turnaround and feeder side Auckland Vulcans went through a similar experience. The Vulcans won only three of their first 10 games, which included a hammering by Cronulla and defeat to bottom side Wyong, and it forced them to have their own "man in the mirror" moment, as coach Willie Swann described it. Since then, the Vulcans have won five of their last six including last weekend's impressive win over the previously unbeaten Sharks.
3 Game of the week
This match pitches the two form teams of the competition but there's a considerable distance between them on the table (12 points). The Rabbitohs are seemingly on course for their first premiership since 1971 but will come up against a Warriors outfit trying to make up ground in a hurry. The Warriors, however, have never won in Western Australia in their four attempts, including last year's game against Manly when they threw away a 16-point lead in the final 12 minutes.
4 Cry wolf
Manly's David Williams is known as Wolfman for fairly obvious reasons so when the hirsute winger was charged with affray and offensive behaviour after an incident outside a Sydney nightclub in May, many checked the calendar. Williams has said he will defend the charges but he won't be able to use the lunar cycle as an excuse - it turns out the alleged altercation happened two days before a full moon.
5 Kiwi Ferns
The New Zealand women's side start their defence of the women's World Cup against France overnight and are confident of continuing their stranglehold. The Ferns are the only side to lift the trophy since its inception in 2000, having won all three previous tournaments, and take on England (July 9) and Australia (July 11) before the final at Headingley on July 15.
6 Wrestlemania
Most teams can't wait to get out of Auckland after a defeat to the Warriors, but the Broncos stayed rather than head back to Brisbane. With a game against the Storm in Melbourne tonight, they figured it would be preferable to stay put rather than fly home and then to Melbourne. Their training on Wednesday morning was apparently interrupted by 30 teenagers doing a life skills course storming the practice pitch. It was reported the teens play-wrestled with the likes of Sam Thaiday and Scott Prince, but it's not clear if any will be cited for alleged grapple or chicken-wing tackles.