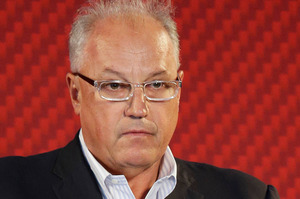 Team New Zealand management are being careful to keep the sailing team insulated from the "ruddergate" drama as the war of words between America's Cup rivals continues to escalate.
The bitter in-fighting has cast a shadow over the event ahead of today's opening ceremony in San Francisco, which coincides with the city's 4th of July US independence celebrations.
With the debate over regatta director Iain Murray's moves to alter the design rule becoming highly emotional and, at times, personal, there is the danger the Kiwi team will get side-tracked.
Team New Zealand boss Grant Dalton is doing his best to ensure the crew do not lose their focus.
Just five members of the team - Dalton, his lieutenant Kevin Shoebridge, skipper Dean Barker, head designer Nick Holroyd and rules adviser Russell Green - are working on the team's arguments to be heard by the jury on Tuesday, with the rest kept at arm's length.
"Team New Zealand has a pretty decent history of getting distracted, so we're trying to make sure history doesn't repeat itself," said Dalton. "We've broken it off to about five of us to deal with it and the rest are just getting on with it."
Still, the impending jury hearing is diverting a lot of the team's time and resources away from their main focus - returning to New Zealand in September with the America's Cup.
Dalton admits he would prefer his energies are directed wholly on the boat's development and fine-tuning crew-work rather than the "shenanigans" of the past few weeks. But claims of dirty tricks and backroom politics are not isolated to this Cup, and navigating the off-water dramas is considered an unfortunate but inevitable part of the event when teams have so much money invested.