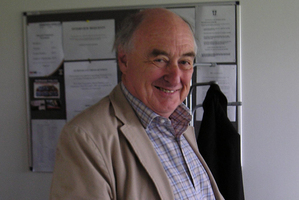 Someone told me recently you once had a locker at Lord's and under the name Blofeld where it listed "media organisation" someone had written "Smersh", the workplace of your namesake, the James Bond villain. Any truth in that?
[Cue chuckles] No, I've never used a locker at Lord's. [Bond author] Ian Fleming and my father went to Eton together but my father was a few years older. They didn't know each other well but Ian seized the name for the books.
I'll have to sack my research assistant. Take two: you scored two centuries at Lord's [one as a 16-year-old Eton schoolboy for Public Schools v Combined Services and the other, a first-class ton for Cambridge University against the MCC in 1959. Between the two, as Blofeld's website describes it he "gallantly took on a bus with his push bicycle and took no further interest in this world for 28 days"]. Please give us your memories of those innings?
All I can say is Lord's was a great place to make runs. As good as you can imagine.
You've commentated for BBC's Test Match Special since the early 1970s. What's been your favourite moment?
Probably the finish to the Headingley Ashes test in 1981. That final wicket [Bob Willis bowling Ray Bright for England to win by 18 runs after following on] completed a remarkable set of circumstances which none of us could have predicted.
You've travelled just about everywhere in the cricketing world, be it by train across Australia's Nullarbor Plain from Adelaide to Perth or by 1921 Rolls-Royce to India via Iran and Afghanistan in 1976. What would you rate as the best tour you've been on?
Any tour to India I've enjoyed more than most. I love the place, I love the people and I love the food.
What about wine? You love your plonk too. If you're sitting down to dinner what New Zealand drop would fill your glass?
I can't pinpoint one. For my mind New Zealand tends to do a very good pinot noir and pinot gris. I don't care for the sauvignon blanc as much, but that might just be personal taste. All this up-front gooseberry stuff bores me stiff. The Dunleavy brothers, I like what they make [on Waiheke Island] but my favourite area is Central Otago where I enjoy Quartz Reef and Felton Road. Unfortunately New Zealand vineyards are generally small and there's not enough of it.
If you're armed with a favourite bottle, which restaurant in London are you choosing to drink it?
In London we're so lucky. I think we eat better than anywhere else in the world. Novikov in Berkeley St do great Russian; I had a sensational evening there recently, but it was awfully different. In Norfolk there's Morston Hall and they've always done lovely food at the Connaught Hotel.
And for dessert ... TMS chocolate cake or Eton mess?
That's tough, both are very good.
I hear you're performing a two-man stage show with former TMS producer Peter Baxter at the Edinburgh Fringe Festival in between Ashes tests?
Yes, we reflect on our memories down through the years. We're doing 19 nights in Edinburgh then taking it to the far East for four shows in Kuala Lumpur, Singapore, Shanghai and Hong Kong before heading to Australia for the return Ashes series.
Will you be coming to New Zealand?
Yes, I'm there in January.
Have you caught up with your commentary partner Mystery Morrison recently from those vintage late-1980s broadcasts?
No, not for quite a while but I'm hoping to when I visit.
What about your beloved seagulls?
[Cue further chuckles] Yes. I'm sure they're still flocking to the Basin.