Payday just looking better and better for washed-up Mets baseman Bobby Bonilla.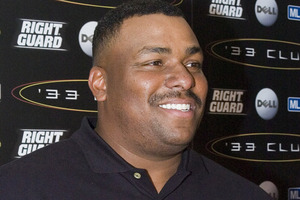 July 1 was a good day for Bobby Bonilla. The New York Mets paid their former third baseman US$1,193,248.20 ($1.5 million) that day - just like they did the past two years and just like they will do until 2035. The Mets released Bonilla after a subpar 1999 season but still owed him US$5.9 million. So they offered Bonilla a deal. If he deferred payment until 2011, they would pay him an annuity worth far more than the original contract. Bonilla accepted, turning US$5.9 million into $28.6 million spread across 24 years.
Hopoate in parking run-in
Former NRL star John Hopoate has allegedly shoulder-charged and threatened a Sydney council ranger who gave him a parking ticket. Police yesterday confirmed a 39-year-old man had been charged with intimidating a ranger after he was fined for illegally parking his car around 3am on June 22. But Hopoate has denied the extent of the alleged abuse. "I was in the wrong. I shouted at him and I told the police that," Hopoate said. "If he was that intimidated by me he didn't show it, because when he drove off he blew a kiss and stuck his finger up." All Supershorts will add is that after watching this - the ranger may feel he got off lightly.
Batsman plays up on plane
Sri Lankan batsmen have joined the list of people playing up in planes. Reports that Ramith Rambukwella tried to open a cabin door at 10,000m during a flight from St Lucia to London are being investigated. The batsman was seen by other passengers pushing and pulling the door on the plane while searching for the toilet, about two hours out from London's Gatwick airport on Monday, British media reported. British Airways crew members subdued the player, whose actions were causing panic among the plane's 229 passengers, according to the Daily Mail. Sri Lanka Cricket said Rambukwella had mistaken the cabin door for the toilet. "[He] apologised profusely to the passengers and to the cabin staff who accepted it in good faith." It said the airline had reassured passengers that it was impossible to open the pressurised door mid-flight.
Midair misdemeanours
Of course, the disoriented Rambukwella isn't the first cricketer to have his mid-flight behaviour scrutinised. David Boon's liver-bursting feat of drinking 52 cans of beer on a flight from Australia to England has become as much a part of Australian folklore as Don Bradman's batting average. Ian Botham was sacked by Queensland after getting into a colourful verbal disagreement with captain Allan Border and then a passenger en route to a Sheffield Shield final in Perth. He was arrested in Perth and rescued from the cells by a six-pack wielding former quick Dennis Lillee. Even our own Timmy Southee hit the headlines for the wrong reasons after what could be described as a miscommunication of ideas on a flight to the 2011 World Cup on the subcontinent.
Epic milestones
This weekend marks the 30th anniversary of Chris Lewis' epic run to the Wimbledon final (where he became grasscourt roadkill for the Superbrat John McEnroe). But in sporting annals Lewis' anniversary pales compared with this one: It is 30 years since filming began on The Karate Kid (1984), starring the ageless Ralph Macchio as Daniel LaRusso. The film was a commercial and critical hit and spawned classic catchphrases repeated to this day. "Wax on, wax off."