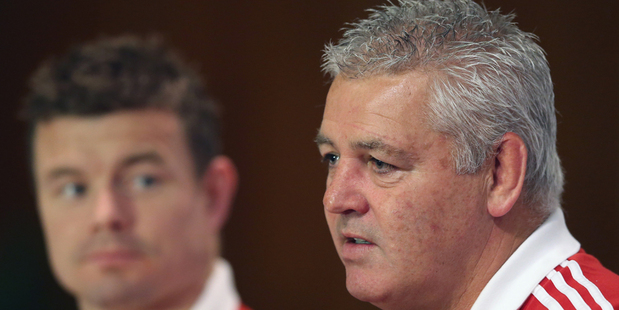 Warren Gatland has faced a torrid backlash in the British media over his decision to drop Irish centre Brian O'Driscoll from the Lions squad for their deciding test with the Wallabies on Saturday night.
It is the first time in 15 years that a coach has omitted O'Driscoll from a squad and Gatland said the decision was tough, but was determined not to allow "sentiment" to affect the Lions' chances of winning.
But the rugby world has met the decision with shock and, largely, condemnation.
Here are some of the strongest excerpts.
Mick Cleary
The Telegraph
"Gatland has claimed that captaincy is over-rated. However, O'Driscoll brings presence to that midfield and has a rugby intellect that is beyond most players. Gatland has made a big call. And it is the wrong call."
Chris Hewett
The Independent
"The cutting of O'Driscoll is one of the more sensational selectorial acts in living Lions memory - far more startling, it is reasonable to argue, than the axing of the England captain Will Carling during the Test series in New Zealand two decades ago. The Irishman has given the very best of himself to the Lions cause. He has scored for them, starred for them, led them, fought tooth and nail for them and broken himself on their behalf. He will go down in red-shirted annals as one of the Chosen Few and he was prepared to give every last remaining drop of his sporting lifeblood to beat Australia in this game."
Keith Wood
Former Ireland and Lions hooker via BBC 5Live interview
"Gatland has made a terrible mistake ... [and is] missing what the Lions is about. Leadership is the most important thing. BOD has been quiet in the two Tests but at every stage he has been the clarion call once Paul O'Connell got injured."
Willie John McBride
Legendary Lions series-winning captain via BBC R4 interview
"I was absolutely gutted. The first thing that came into my mind was that Robbie Deans, the Australia coach, must be laughing all the way. The Australian media and others have convinced him [Gatland] to drop O'Driscoll, which I find amazing, I must say. He was the guy I would have picked as captain of the tour. He has been superb and his influence on the tour has been terrific; but you live and die by the team you pick so we will see what Saturday brings."
Dan Carter
Via Twitter
"There must be some angry Irish out there waking up to see @BrianODriscoll not playing this weekend. #ShouldBeTheCaptain"
George Hook
Irish broadcaster and pundit
"BOD should have retired in May - this was no way for the greatest player of his generation to end his career at the hands of a crap coach."
Lawrence Dallaglio
Former England and Lions No8 via Twitter
"Powerful and bold selections from Gatland."
Warren Gatland
"It's only hard because you are making the decision using your head and not your heart. Then you realise that what comes of making a decision like that is all the peripheral stuff, because it becomes a major story for 48 hours and it becomes a debate.
"I'll go back to the UK after this and say: 'Did I make the decision because I believe it's the right decision or did I make it because it was politically right?' I have to put hand on my heart and say it's the right rugby decision. I would hate to think we had made calls to avoid criticism or for reasons of public popularity."
-nzherald.co.nz