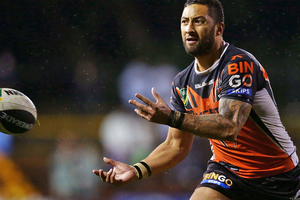 Benji Marshall grew up dreaming of becoming an All Black and says he's serious about a possible switch to rugby union.
The Wests Tigers playmaker's future is up in the air but Marshall told the Sydney Morning Herald he thought he had agreed terms with the club he made his NRL debut for in 2003 to remain there until 2017.
He is off contract with the Tigers at the end of 2015 but the terms of his present deal allow him to renegotiate following any increases to the salary cap through a new broadcasting deal. Those talks have been ongoing since the start of the year and Marshall said he thought they were so far advanced he had agreed terms.
"I'm confused with it all myself,'' Marshall told the Sydney Morning Herald. "To my knowledge, I'd done a deal to stay at the Tigers until 2017 but, with the changes to the CEO and the club, they've informed me that won't be the deal any more. I've got a lot of things to weigh up.''
One of those is a potential switch to rugby union and he has fielded an approach from Sir John Kirwan and the Blues.
Reports emerged yesterday the 28-year-old could even make the switch in time to play in this year's ITM Cup, which would scupper any chances of him playing in this year's rugby league World Cup in the UK and France.
Marshall said he was serious about rugby and denied he was using interest from the rival code to try to drive up his salary.
"Growing up, it was a dream of mine to play for the All Blacks,'' he said. "That changed and I started playing rugby league. But I'll consider rugby, absolutely.''
- APNZ