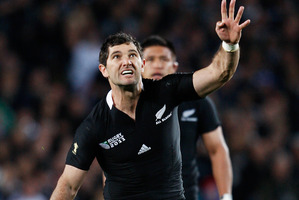 One of the most famous penalties in New Zealand rugby history is going to be made into a TV movie - and taxpayers will foot most of the bill.
Great Southern Television was yesterday granted $2.7 million by NZ On Air to turn Stephen Donald's 2011 Rugby World Cup goal into a two-hour drama.
The Kick will screen on TV One in the Sunday Theatre slot, said producer Phillip Smith.
Written by Tom Scott, the script will follow Donald's life and rugby career while also examining New Zealand's rugby psyche, Smith said.
"The kick is really just part of the story - it's a much bigger story. It's a story of how we examine sportsmen. It's a story about how a man found himself very much offside with a nation, how we turned on someone very much in the tall-poppy-syndrome manner and how he redeemed himself."
He said it was the first time the New Zealand Rugby Union had opened ranks and let such a project in.
"It's also a look at life inside the modern All Black bubble and this is the first time the rugby union has allowed a drama maker into the All Black camp to examine what happened during that last week leading up to that World Cup win."
New Zealand beat France 8-7 in the final at Eden Park; Donald's three-point penalty made all the difference. Donald was out white-baiting when he was called into the team after first five-eighths Dan Carter and Colin Slade were ruled out and Aaron Cruden went down injured.
Smith said production was due to start this year and be completed by mid-2014.
"It's a bit of a first. You'll be seeing actors playing all those key roles. We haven't cast yet and are open to any suggestions from anyone who can play Richie McCaw and who can play Graham Henry and who can play Stephen Donald."
NZ On Air chief executive Jane Wrightson said the funding came from a $20 million drama budget, which was part of an overall $130 million funding budget.
"It's part of the range of drama funding we do across the year," she said. "We look for diversity across the genre as well as all the activities that we do support, so a one-off drama is important to us and gives a nice complement."
It cost to produce high-quality television comparable to international standards, Ms Wrightson said.
"An average feature film now costs about $4 million; this is a mini feature. Obviously, one-offs are expensive, which is why we do relatively few of them - we are lucky to do one or two of them every few years."
In comparison, an international prime-time TV series like Grey's Anatomy would cost "about US$3 million an hour" to make, she said.
"Drama is expensive in New Zealand but it is a drop in the bucket compared to its international competition. Audiences expect our content to look as good, if not better, than international content, so we are enormously cost-competitive."