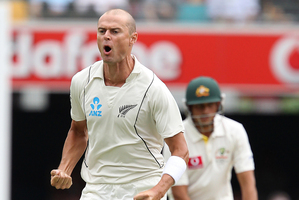 Chris Martin has chosen the right time to walk away from the game which has dominated his life for the past 15 years.
For so long the leader of New Zealand's test pace attack, Martin's place could no longer be taken for granted last year when younger men Tim Southee, Trent Boult, Doug Bracewell and Neil Wagner made the selection issue a squeeze.
Martin might have stepped down in stages. At 38, he invariably presented himself in top physical condition and could have done a job for Auckland next summer.
Instead, he has made his move in a giant stride which could have been taken out of his distinctive arms-pumping, high-stepping runup which has been a feature of the New Zealand scene for so long.
"It feels like the right time to step down," he said yesterday. "After 15 years of professional cricket it's time to pursue a new challenge. Representing the Black Caps [since 2000] has been a massive privilege."
At his best - and he could get the ball through at the mid-140km/h range - Martin was a top-class international seamer, particularly adept against lefthanders, with a natural slant across them.
He removed South African captain Graeme Smith eight times in 11 tests. That included twice during his finest match, taking 11 for 180 against the Proteas in the nine-wicket win at Eden Park in 2004, a performance which sometimes slips the memory when assessing New Zealand's most notable test wins. Nine of those 11 wickets were genuine batsmen.
Four times in as many innings he had hapless Australian lefthander Phil Hughes caught by Martin Guptill in the slips in Australia in late 2011.
He particularly relished playing South Africa, against whom he began and ended his career, and took 55 wickets in 14 tests against them.
If his bowling was an ever-present and important cog for New Zealand for more than a decade, his batting was a different story altogether. If the constant jibes at his ability with the bat tested his sense of humour at times, the numbers tell their own, unarguable story.
In late 2011, Martin was the inaugural winner of the Sir Richard Hadlee Medal as the country's top cricketer.
His "who, me?" expression when his name was read out was a genuine expression of a player who went about his business in an unfussy, but effective manner.
An intelligent man, he has been among the more interesting interview subjects in the national team, a person who thinks about what he's saying, often has an unusual slant on matters and avoids the bland.
Test cricket was his metier and only Hadlee (431) and Dan Vettori (359) have taken more test wickets for New Zealand.
If Martin has a head for numbers, he might have liked one more first-class game to reach a nice, round 600 first-class wickets.
He got up as high as No 10 on the test bowlers' ranking list. Yesterday he was still No 19, even though he hasn't played a test since the first week of this year.
His time is up but 'Tommy' Martin will leave good memories of an honest, skilled performer.
Martin ... by the numbers
Tests: 72
Wickets: 233, at 33.81
5/inn: 10
10/match: 1
First-class: 192
Wickets: 599, at 31.83