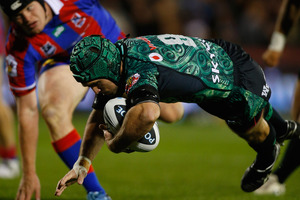 Elijah Taylor stayed red hot in Round 16 and has taken the leap to an elite fantasy lock over the past five weeks of NRL action.
Rabbitohs 32 Raiders 2
The star: Sam Burgess (59pts) - This is why Burgess is top 10 fantasy front rower and one of the best props in the league. This is the sixth time this season Burgess has cracked a half century of points.
The dud: Terry Campese (14pts) - Campese appears here so I can highlight the fact that, though he is cheap, he's just not a great option right now at five eighth. Wait till he's playing at 100% before buying in.
Value pick: Bryson Goodwin (42pts) - in amongst the high price of Rabbitohs star backs such as Greg Inglis, Chris McQueen and David Tyrrell sits Bryson Goodwin. Goodwin is a top 15 back who comes at a fraction of the price of these other stars (142k). Buy.
Tigers 22 Storm 4
The star: Robbie Farah (63pts) - don't look now but Farah's on a fantasy roll.
Despite his overall total not placing him inside the league's top 10 front rowers, his points per game put him only behind Cameron Smith.
The dud: Billy Slater (12pts) - beware the post-Origin fixture. Hopefully you slotted someone else into your team for this match but if you didn't you got handed Slater's worst fantasy score of the season.
Value pick: Tim Simona (49pts) - Simona ran wild in this game with over 200m gained, two line breaks and a try scored. If he keeps up this form he's going to become a great bench back option for just 110k.
Panthers 25 Dragons 10
The star: Kevin Kingston (63pts) - join the Kingston train already. He's averaging 56 points per game over his past five appearances, which is elite.
The dud: Brett Morris (12pts) - another example of post-Origin blues. Morris is a great matchup play, so keep him on your radar despite the dud.
Value pick: Tyson Frizell (39pts) - he's had some quiet patches this year but he's put on a few streaks where he's flashed elite second row potential. A great bench second rower for 169k.
Knights 46 Titans 16
The star: James McManus (62pts) - He scored four tries. Four. This was by far his best fantasy performance of the season, so this came as somewhat of a surprise. He's a matchup-dependent fantasy back.
The dud: Jamal Idris (-2pts) - Just as his move to the centres was making him a great fantasy option, he goes and breaks his leg. He's now out for the season, so owners make your transfers accordingly this week.
Value pick: James McManus (62pts) - When you look at the price of most fantasy-relevant backs, McManus, at 268k, is relatively cheap. He's no Michael Jennings or Bryson Goodwin but he's up there for value.
Warriors 18 Broncos 16
The star: Elijah Taylor (69pts) - he's scored four tries in his past five games and averaged 60 fantasy points in the process. This run has made him an elite option at lock folks. Get him in your side while the Warriors roll.
The dud: Justin Hodges (13pts) - Hodges was another to suffer a post-Origin dud and looked lost at times during this one. Wait till Origin is over before using him again.
Value pick: Todd Lowrie (35pts) - this was actually one of Lowrie's lowest fantasy scores of the season but that just serves to highlight how good he is for his 127k price tag.
Cowboys 24 Sharks 4
The star: Wade Graham (47pts) - For some reason this was a low scoring game for fantasy purposes but Graham deserves to be highlighted as being a top-two halfback option in the game.
The dud: Todd Carney (15pts) - Only four points for the Sharks meant Carney only had one shot at goal and without shots at goal, Carney is a dud. Seven missed tackles didn't help his cause either.
Value pick: Tariq Sims (39pts) - he's a talented real life second rower but in fantasy he's at his best as a cheap bench option for your team at 122k.
Roosters 18 Sea Eagles 12
The star: Jake Friend (76pts) - Friend went from solid front row option to superstar this week as he added a try to over 50 tackles made and his highest metres gained for the season.
The dud: Brett Stewart (7pts) - Stewart entered the 2013 NRL season as the league's most potent try scorer but has crossed the white chalk just once so far this year. I think it's time to cut bait on Stewart for this year.
Value pick: Luke O'Donnell (39pts) - for 182k he's a great bench option for your lock position.