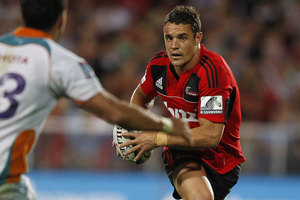 A look back on all the Fantasy studs and duds from the weekend's Super 15 action.
Chiefs 34 Hurricanes 22
The star: Matt Vant Leven (34 points) - He's been a decent back row option since he joined the Chiefs squad in May and this week was his biggest game in almost every category so far, plus he scored a try. Keep him on your radar.
The dud: TJ Perenara (-1 points) - He scored a try but a horrendous five knock-ons cost Perenara's owners dearly.
Value pick: Matt Vant Leven (34 points) - New Zealand players are generally over-valued in this competition so there wasn't a standout discount player involved. However, Vant Leven is my pick as a mid-priced option with plenty of potential to stay relevant.
Highlanders 12 Crusaders 40
The star: Dan Carter (41 points) - a triumphant return for the king of kiwi backs. The indoor stadium in Dunedin provided perfect conditions for his eight scoring kicks and he threw in a try and a turnover won for good measure.
The dud: Brad Thorn (1 point) - Thorn simply disappeared in this match, not even getting involved in the few scuffles that broke out between the Southern rivals.
Value pick: Elliot Dixon (16 points) - he's cheap because he doesn't always start for the Highlanders but when he does he generally produces. Watch the team lists and if he's named as a starter plug him in for discount points.
Sharks 22 Blues 20
The star: Marcell Coetzee (29 points) - this was his fourth 20+ point performance of the season. When he's starting and it's the right matchup he's a great back row option for $4,230,000.
The dud: Rene Ranger (5 points) - he was never going to start this match so hopefully owners weren't taken by surprise selection-wise. The limited minutes and the Blues' loss meant he failed to provide any impact this week despite having a decent fantasy season overall.
Value pick: Anthony Boric (17 points) - Another start, another 20+ tackle count for Boric. For $3,110,000 play him while he's starting for the Blues.
Bulls 48 Kings 18
The star: Wimpie van der Walt (33 points) - Again, the Kings lose and van der Walt stars. He's proving to be worthy of an every-week starting role in fantasy teams.
The dud: Demetri Catrakilis (3 points) - the Kings five eighth has actually been a solid fantasy option this year courtesy of his kicking duties and this was his equal worst performance of the season.
Value pick: Cornell Du Preez (16 points) - Yes, somehow the Kings provided the star and the value in this match. Du Preez comes at the relatively low price of $4,230,000 and is a consistent double-digit fantasy scorer in the back row.
Stormers 28 Cheetahs 3
The star: Deon Fourie (25 points) - this was Fourie's best fantasy score of the season by a fair margin, his second try of the year providing the boost to what would have been an average score.
The dud: Johann Sadie (3 points) - Sadie has suffered as the Cheetahs have stumbled to two straight losses in the past two rounds. He's been a top 15 back so far this season but is best played based on matchups.
Value pick: Philip van der Walt - Along with Pieter Labuschagne, van der Walt is an elite back row option and at $4,070,000 he's also one of the cheapest. Buy.

Round 18:
On form players
Worst performers
Full player list, including fantasy points