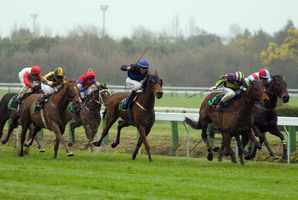 It could not have been more timely when the Herald called the Waikato Racing Club for a comment on the Te Rapa steeplechase course yesterday.
WRC course manager Neil Treweek had just finished ground hogging the landing side of each steeplechase fence on the course in anticipation of today's Cambridge Jockey Club meeting.
That had followed vertidraining appropriate parts of the course.
Treweek acknowledged the Waikato Racing Club had received complaints about some safety aspects of the track after this winter's steeplechasing.
"Of course, our big meeting in May followed a drought.
"The rain arrived only a week before the meeting and the water hadn't soaked far enough through the track.
"The tractors and such use the outside of the course proper down the back straight where the steeplechases run and it can get very hard."
Hastings course manager Richard Fenwick referred the matter to the chief executive Jason Fleming.
Fleming told the Herald the club inspected the area where Shelley Houston's mount had badly slipped on Saturday.
"We took photos and are currently going through some issues with that particular fence with local trainer Paul Nelson, who is something of a jumps consultant to us."
It is ironic that No Quota is one of Nelson's horses.
"Paul has suggested we make a 5-degree alteration in the angle of the fence, which is what has been causing some riders concern.
"Paul said, and most riders agree, that coming into it on a different arc will make a difference.
"One horse out of 14 horses to slip probably tells something of the story."
Present that fact to Shelley Houston and she says one rider's broken neck or broken back out of 14 doesn't sound quite so good.