Aussie Cleary surprises many by accepting role as Kiwis assistant coach for World Cup.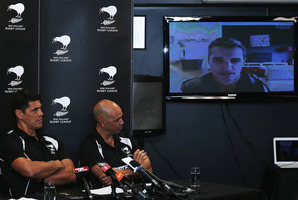 Few saw the appointment of Ivan Cleary as Kiwis assistant coach coming, not least of all those in the national body who expected Cleary to give their approach a quick rebuff.
Cleary was confirmed as Kiwis assistant coach yesterday to work alongside coach Stephen Kearney. He will also become a selector.
It was not an appointment many saw coming, but it is one that works on many levels. Cleary knows a lot of the players and the environment they work best in through spells with the Warriors and Panthers, and the players have a good relationship with him.
He is also based in Sydney, which means the Kiwis coaching setup has a presence in the three most significant centres, with Kearney in Brisbane and manager Tony Iro in Auckland.
Cleary takes over the role from Iro, who has taken over as team manager from Tony Kemp, who resigned recently in the wake of sexual harassment allegations.
Iro approached Cleary about the prospect of joining the Kiwis for the World Cup but did not like his chances.
"When I initially asked Ivan, I wasn't expecting a good response, only because I know he has a fairly big job on his hands as an NRL coach and he probably wouldn't be able to find the time to be away for six or seven weeks," said Iro, who admitted they didn't really have a back-up option. "But when I heard his initial response was fairly positive I looked at people who might be able to push him along."
That included calls to both Craig Walker, the former Warriors trainer who is also on board for the World Cup, and Warriors and Kiwis captain Simon Mannering, who got in touch with Cleary.
Cleary needed little convincing. He considers himself half-Kiwi, having spent half of his adult life in Auckland as a player (2000-02) and then coach (2005-2011) of the Warriors. He found his Panthers club receptive to the idea.
"It's a great opportunity," he said. "I'm really humbled. It's probably the best Kiwis squad I've seen in my time and [they have] a great opportunity to defend their title."
It won't be easy. The Kiwis have not beaten Australia since the 2010 Four Nations final and have not defeated England in the UK since 2006. They play their first game against Samoa on October 29 (NZT) and will also meet France and Papua New Guinea in pool play.
The Kiwis have a history of using Australian coaches. Wayne Bennett was Kearney's assistant in 2008 and is still used by Kearney as a sounding board and, with only 16 weeks until the World Cup, they needed someone who is actively coaching. There have been some suggestions a New Zealander should have been appointed but Iro said "it wasn't time to play the New Zealand versus Australia card".
"We just needed the best man for the job and Ivan is a current NRL head coach. He's match-fit."
Gidday, mate
Australians in positions of power in NZ league
* Matt Elliott - Warriors coach
* Andy McFadden - Warriors asst.
* Ivan Cleary - Kiwis asst.
NZers recently gone or going
* Brian McClennan - Warriors coach
* John Ackland - Jr Warriors coach
* Tony Kemp - Kiwis manager.
- APNZ