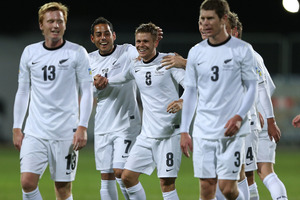 A decision on the venue for the All Whites' World Cup playoff has been made but New Zealand Football are holding off on making it public so they can beat the rush on travel and accommodation.
The NZF board made the decision at last week's meeting, with Wellington the likely choice, but hope to keep the venue of the game secret while they arrange domestic travel and accommodation. They also have some responsibilities to host the opposition.
The All Whites will take on the fourth-best team from North and Central America in a home-and-away playoff for a place at next year's World Cup in Brazil.
The first leg will be played away on November 15 (NZT), with Honduras and Panama looming as possible opponents, with the second leg in New Zealand on November 20. The All Whites' opponents won't be known until qualifying in the Concacaf confederation wraps up in October.
NZF chief executive Grant McKavanagh said their approach was not based on trying to save money but to improve their chances of making appropriate bookings.
"It's more about the fact we need to book hotel rooms,'' McKavanagh said. "We know wherever it's played there will be a rush on hotels once this [decision is made public].
"Midweek bookings in any part of New Zealand are always under stress due to the fact most business meetings happen mid-week so we need to make sure we can lock in enough accommodation to make sure we can do what we need to do to host the event. Even in Auckland, when there's an All Blacks test, AC/DC or whatever, there are problems with accommodation.''
All roads appear to be leading to Wellington, which hosted the corresponding game against Bahrain in 2009 that saw the All Whites qualify for their first World Cup since 1982.
Coach Ricki Herbert and the players want the game to be played in the capital because of the historical connection and the fact many have played club football there with the Phoenix and they think Wellington represents their best chance of qualifying.
The alternative is Auckland's Eden Park, which can seat 44,000 people. This is about 11,000 more than Westpac Stadium, which could net a healthier financial return if the game is a sellout.
Auckland has traditionally struggled to attract crowds to international football games and, as a consequence, prices can be expected to be cheaper in than in Wellington which sold out for the Bahrain game.
The biggest carrot, however, is qualification and the riches that come with that. NZF banked US$10 million for qualifying for South Africa, with 40 percent shared among the players, and have said they will base their decision on where they think they can get the best outcome as opposed to the best financial return.
- APNZ