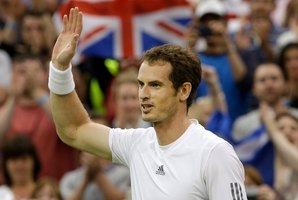 Even in this tournament, the brief convulsion of Andy Murray threatened to claim new levels of improbability.
It provoked the bizarre possibility of the fall of a great player more sudden, more dramatic than anything yielded by these past few days which have shaken the foundations of tennis' highest ground.
This was because Murray, unlike the fallen trio of multiple champions - as in Rafa Nadal, Roger Federer and now Serena Williams - had given no hint that he too might be heading towards the sport's version of the Bermuda Triangle in southwest London. Indeed it was precisely the opposite because his crisis came immediately after the shot of this tournament and no doubt many others.
Indeed, the cross-court forehand passing shot which left the Muscovite veteran Mikhail Youzhny shaking his head in bewilderment incited some claims that it may have been the best shot seen here since Federer produced his unforgettable backhand down the line at a pivotal stage of his 2008 losing final with Nadal.
It broke Youzhny with its force - it might have come from a howitzer - and the brilliance of his conception.
Federer, Nadal, and the vibrant Novak Djokovic would have been proud to claim authorship of such a shot.
Yet what did it deliver? Simply full-blown crisis, the possibility that Djokovic might be the last great player standing in the tournament that may yet be remembered for the bonfire of the certainties.
Having cruised through the first set, Murray broke the 31-year-old, 28th ranked Youzhny in the third game of the second. Murray had only to attend to the details of the demolition. Instead, he entered a vortex as shocking as the ones inhabited by Nadal, Federer and yesterday, at the hands of the superbly committed German grasscourt specialist Sabine Lisicki, Williams, the owner of 16 grand slam titles.
The wider Murray contingent were as stunned as the legion of new Laura Robson fans.
Murray crashed and burned to 2-5 down. Youzhny, the old battler, conjured some shots of impressive quality and another one of those overcooked Wimbledon fantasies was turning into a crisp.
However, Murray is a player of nerve and fine judgment. He produced a passing shot on the run which defied time and geometry and told Youzhny that the break-out was over. Murray won it in three sets, 6-4 7-6 6-1, finishing on a tide of confidence. It was as though the bad thing hadn't really happened, it was just some bizarre and malevolent illusion.
It may be that Robson will emerge as a serious player at the highest levels of tennis but nothing in her performances here justified the kind of ordeal imposed upon her by her squealing, cheering fans.
After losing to her Estonian opponent, Robson said it was great that a lot of young women and girls had come to see her play.
If there was a lesson in Robson-Kanepi yesterday, it was that great players are not created by the yearnings of a crowd in search of a new hero or heroine. They come about by the application of great talent over a number of years - and a hunger to win a place in the highest levels.
In all the labour sometimes something magical happens and a great leap is made. That is the challenge facing Laura Robson.
It is one conquered some time ago by Murray. Yesterday he merely announced that he was proofed against the worst of the fates conjured by this extraordinary tournament.
He found himself in an extremely menacing place. Then he remembered that he was indeed a great player. The result was nothing less than a bombardment of evidence.
Shock value
Fate of the top 10s
Round one
Steve Darcis bt 5-Rafa Nadal 7-6 7-6 6-4
Laura Robson bt 10-Maria Kirilenko 6-3 6-4
Monica Puig bt 5-Sara Errani 6-3 6-2
Round two
Sergiy Stakhovsky bt 3-Roger Federer 6-7 7-6 7-5 7-6
Ernests Gulbis bt 6-Jo-Wilfried Tsonga 3-6 6-3 6-3 (withdrew)
Kenny de Schepper bt 10-Marin Cilic (withdrew)
Kaia Kanepi bt 7-Angelique Kerber 3-6 7-6 6-3
Petra Cetkovska bt 9-Caroline Wozniacki 6-2 6-2
Michelle Larcher De Brito bt 3-Maria Sharapova 6-3 6-4
Flavia Pennetta bt 2-Victoria Azarenka (withdrew)
Round three
Bernard Tomic bt 9-Richard Gasquet 7-6 5-7 7-5 7-6
Round four
23-Sabine Lisicki bt 1-Serena Williams 6-2 1-6 6-4.
- Independent