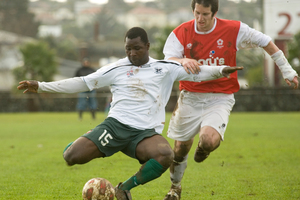 Call it the Caversham Curse.
For the past six years, the team who have knocked Dunedin's Caversham AFC out of the Chatham Cup have gone on to lose in the final of football's national knockout tournament.
Western Suburbs were the first to begin the streak in 2007 before Dunedin Technical suffered the same fate a year later.
Three Kings United carried the run on in 2009 while Bay Olympic lost the 2010 final after eliminating Caversham. Napier City Rovers (2011) and Lower Hutt City (2012) have kept the streak alive recently.
In yesterday's quarter-final draw, Caversham drew a tricky tie against Wellington Olympic in the capital but Olympic are also in the midst of some Cup trivia.
Olympic beat Lower Hutt in the round of 16 last weekend and for the past four years, the team who have knocked Hutt out have gone on to lift the trophy.
Caversham will travel north to meet Olympic on the weekend of July 27/28 and something has to give.
Caversham coach Tim Horner, who has also played for the club for the past decade at centre back, said his side's consistency meant they were always a chance to have been part of such a run of bad luck for their opposition.
"It's not surprising to be honest and that's just from the perspective that we have progressed to the quarter- or semifinals seven times out of the last eight years,'' he said.
"So there's always going to be a good chance that the team that eventually makes the final - win or lose - will have come up against Caversham and I guess out of coincidence they've managed to lose.''
Caversham's recent Cup form is a beacon of consistency with appearances in the final four for the past three years running.
But for all their good work, Caversham have never made a Chatham Cup final. But with Otago United players Seamus Ryder, Jude Fitzpatrick and Ant Hancock on the books this season they could be set to make some overdue history of their own.
Meanwhile, in other quarter-final fixtures announced yesterday, Hamilton's Melville United drew the in-form Birkenhead United who are appearing in the quarters for the second straight year, while Palmerston North Marist will host the winner of next weekend's catch-up fourth round tie between Christchurch clubs Cashmere Technical and Waimak United.
Three-time champions Waitakere City will host Onehunga Sports who are aiming to break through to the semifinals for the first time.
All quarter-finals will be played on the weekend of July 27/28.
- APNZ