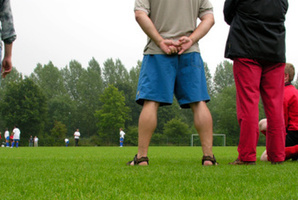 Mums, dads and other fans are using the Rate my Game website on the sidelines of grassroots sports around New Zealand to report weekend and after-school sport - and this weekend, they were winning prizes.
L'Oreal has awarded his-and-hers health and beauty packs to the best match reports over the past month.
Lynne Mathieson reported on an U6 Rippa game, played at Patamahoe.
"It was awesome to see the fair play spirit by coaches, players and parents at my son's under-6 Rippa rugby game today," she wrote.
"The opposition, Puni, were three players short and we had three subs. Instead of having a one-sided thrashing, our coaches gave the opposition our three subs.
The kids didn't care they just all wanted to play
"All the parents supported both teams positively and all the treats were shared at the end. It was great to see the coaches recognise that although it's great to win it's not great to see little kids thrashed and disheartened. The parents of both teams shared lots of laughs about the kids' antics. Team spirit, camaraderie and fair play is alive and well in Counties Manukau Rippa!"
Supporters filed their reports to the new interactive Rate my Game website - and the reports were mostly a celebration of heartland and age-group sport.
Stephanie Lewis won a L'Oreal Youthcode Luminosity Pack, valued at $95, for her match report from Aorere College vs Hillary College, 1st XV 1B rugby match-up.
"Today's final pool clash for Aorere College was held at home against local team Hillary College," she wrote. "The warm winter sun shine matched the crowd and on field action with one of the best and cleanest games this season. The Hillary sideline, complete with their band of cheer leaders, supported their team from the outset with plenty of reason.
"The Aorere hillside supporters cheered their team on to an impressive 40-0 score line to retain the Brother Brother trophy for another week and to take out Round 1 in top position. The Aorere Player of the Day this week goes to team captain Ezra Meleisea who lead from the front in terms of discipline and formidable on both attack and defence.
"Much is played out in the media maligning the youth of today, with a lot of negative emphasis against the youth and schools of South Auckland. From what was on display today, and throughout the season to date, the youth of South Auckland have a lot of positive role models, modelling both on the field and off - true side line champs if ever there were any!"
Kelvin Maru from the Waikato wins a L'Oreal Men Expert Hydra Energetic Pack for his report from Ngaruawahia Panthers vs Taniwharau U6s rugby league encounter.
"A great game played in perfect conditions, at Hopuhopu," he wrote.