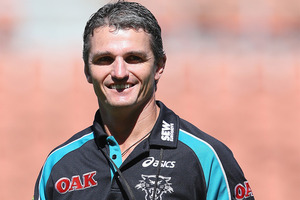 Ivan Cleary feels about half-Kiwi at the moment but there's a good chance he will be made an honorary New Zealander if the Kiwis can defend the rugby league World Cup in the UK and France at the end of the year.
The Panthers coach was this morning announced as Stephen Kearney's assistant for the World Cup campaign and it's a natural fit. Not only does he know a lot of the players and understand the culture from his time as Warriors coach but he also represents a presence in Sydney who can monitor and communicate easily with players there.
Cleary will also act as a selector and bring fresh ideas to a coaching structure that has largely been in place since before the last World Cup in 2008.
Wayne Bennett acted as Kearney's assistant for that successful campaign but, while Kearney is still in constant contact with the seven-time NRL-winning coach and former Australia and Queensland mentor, wasn't considered this time because of Bennett's ties to his family.
Cleary replaces Tony Iro as assistant with Iro moving into the manager's position vacated following Tony Kemp's resignation due to allegations of sexual harassment. Kearney and Iro evaluated their options, with a few names being tossed around, but continually came back to Cleary.
"It's what is best for this group,'' Kearney said. "From where we have come over the last two or three years, I think it needed a freshness about it and I think Ivan offers that heading into such an important campaign at the end of the year.
"Ivan understands our culture and is respected by the players. He is experienced as a coach and, importantly, he's match-fit. Those he has worked with closely have a lot of confidence in him.''
Cleary got in touch with Iro after the Anzac test in Canberra and commented that he thought, from what he saw in that match, especially the first half, the Kiwis were looking good for the World Cup. Australia flexed their muscle in the second spell to win 32-12 but came under considerable pressure in the first half half.
"It's a great opportunity,'' Cleary said of the job. "I'm really humbled. It's probably the best Kiwis squad I've seen in my time and [they have] a great opportunity to defend their title.
"I was shocked [to be asked]. It really took me back. I was very humbled to get the opportunity but very excited as well.''
Cleary spent three seasons playing for the Warriors from 2000 and then returned to Auckland as an assistant coach coach in 2005. He stepped up to the top job in 2006 and guided them to the NRL grand final in 2011 before taking up the head coaching role at the Panthers in 2012.
He has a considerable affinity with New Zealand and his appointment will be greeted with widespread approval in this country. Penrith and football manager Phil Gould were also supportive of the move.
"That's about right. I reckon,'' Cleary said when told he had been described as half-Kiwi. "I have spent half of my adult life in New Zealand and my children have been brought up there. We have a lot of friends over there and every time I go back it feels like home.''
His contract is only until the end of the World Cup, when the entire coaching and off-field structure will be reviewed. The NZRL have accumulated a coaching team who all know each other well, with former Warriors trainer Craig Walker also part of the setup.
The Kiwis open their campaign against Samoa on October 28 (NZT) and will also meet France and Papua New Guinea in pool play.
- APNZ