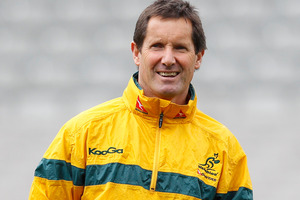 Two casualties have prolonged Robbie Deans' Wallaby coaching career.
For much of the second Lions test, James O'Connor failed to show any great connection with the No 10 on his jersey. He struggled to get into position to push some backline initiative and looked like an individual struggling to fit into a team pattern.
Outside him, Christian Leali'ifano returned from last week's knockout to deliver his own blow to the Lions with a final conversion to claim the 16-15 victory in Melbourne.
While he looked composed and unflustered, O'Connor had the purr of a cat with tonsillitis.
The Lions rushing defence kept pushing him deeper into the pocket and out of the play where he could not generate any strong action for his backline buddies.
He was better from broken play or when possession had gone through a number of phases but that did not occur too much from either side as they struggled with mistakes.
O'Connor's instincts do not seem to reward his teammates. He looks caught between decisions about what he can do before he considers his outsides. He is a rookie five-eighths and that shows.
He did produce the get-out-of-jail card with five minutes left but any international and lower division five-eighths would be ashamed if they could not perform that basic move.
It was almost a case of first try wins - but not quite. Leali'ifano had to kick the conversion to edge the Wallabies in front. His effort never left the middle of his target.
When Leali'ifano was quizzed last week, as part of his concussion test, about the Waratahs tour match against the Lions he could not remember.
It is unlikely he or Deans will ever forget the test which Deans labelled as Leali'ifano's debut after he lasted just 45 seconds at Suncorp before he was knocked out of the contest.
Whatever the measure for his approved recovery and second test selection, everyone in the Wallabies squad was ultra grateful for the five-eighths' composure and radar goalkicking.
The hosts' victory to take the series to a Sydney decider means Deans will continue his work into the Rugby Championship.
Sources close to some of Australian rugby's powerbrokers suggested a series loss in Melbourne might have been the end for Deans.
The solitary point margin was gold-plated for Deans, who needed that victory in the fat of the series to stave off hovering challengers Ewen McKenzie and Jake White.
Leali'ifano kicked three penalties from 22m, 38m, 39m, then an angled conversion of Adam Ashley-Cooper's late try to seal the narrowest of victories.
Goalkicking is a horror or glory occupation which has carried no blame for Kurtley Beale and Leigh Halfpenny during the series. Both have missed long-range attempts to win, Beale from 47m in Brisbane, Halfpenny from perhaps 54m on the angle in Melbourne. Teammates said Halfpenny had kicked penalties from that range but his poorest attempt on tour suggested he did not believe he would be successful.